DELIVERY
2-3 working days

DELIVERY
2-3 working days

DELIVERY
2-3 working days
*When purchasing 3 months or more, the onboarding service (worth € 299.00) will be provided as a courtesy.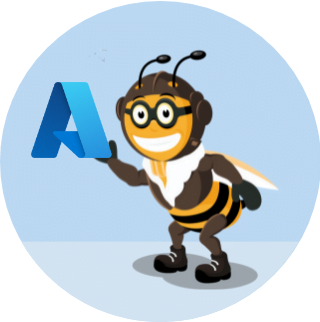 Microsoft Azure: The cloud solution for professionals.
It's redundant to say Microsoft is a big player in the field of Cloud Hosting. No fewer than three quarters of quote 500 companies are using their Azure cloud hosting services. We at Snel.com are now making a Microsoft Azure VPS accessible to everyone. We offer this extensive product made simple, by managing it for you ourselves. This way you'll have the benefits of Azure without the burden of hiring IT staff or an Azure Cloud specialist.
Fast and personal service from Snel.com
The biggest barrier to purchasing and managing an Azure VPS yourself is the lack of the possibility to quickly and easily speak to someone when questions or problems occur. Snel.com fills in that lack of service for you. This means that you always have quick access to personal service and to our expertise. When you purchase a Managed Azure VPS, you sign up for guaranteed response times and the friendly service that Snel.com is known for. You can choose from several service levels. Are you curious about what our Managed Azure Server packages can do for you? Find all our available support packages and response times on our Managed Server page.

Safe and dependable
---
With a team of more than 3,500 cyber security experts and a budget of US$1 billion per year, Microsoft Azure has the security of your data as a top priority. You benefit from excellent security in several layers, which is proactively monitored by Snel.com.

Always up to date
---
In collaboration with Microsoft, we ensure that you always have the most up-to-date software and security measures. Your servers are updated weekly. As soon as updates or patches are available, we ensure that they are performed securely on the server. That way you never fall behind on the facts.

Flexible and scalable
---
Using extra capacity is quickly arranged. This way your systems can always run optimally so that your company has room to peak. No dealing with delays or capacity problems. And if traffic were to reduce, scaling down is just as quick and easy.

Backup management

---
Although backup is not exactly a determining factor in keeping your server vital, it does play a crucial role for the data security of your company. To secure your data, we use the backup solution of Snel.com Cloud Backup, in which to addition of Azure, your data is also secured offsite by Snel.com.

Operating systems

---
We support Windows Server 2022, 2019, Debian Linux and Ubuntu Linux. In addition, we also take responsibility for your OS updates. Not sure which operating system suits your organization's needs? We can provide support and advice so that you can find the best suited solutions and make a well-informed decision.

Data in NL and EU
---
We store your data securely within the Netherlands and Europe in accordance with the GDPR legislation. In addition, the backup of your data is only stored in Europe. We also have a strict policy regarding the protection of your data. Your data is never shared with third parties.

Globally expandable
---
Your data is hosted in Europe by default. But with the choice out of 54 server locations in many different countries, the Microsoft Azure cloud has the largest global coverage. So you can roll out or scale your services worldwide. With a Micrososft Azure server you will be up to par with legislation, local protocols and certifications.

Efficient
---
By outsourcing management and with flexibility in scaling up and down, you save time, money and energy, which you would rather spend on your business. You can rely on the expertise of our technical team, which is available 24/7. And if you prove to be growing quickly, expansion is possible quickly. In this way we make Azure accessible, and it is also a future-proof solution.

Accessible
---
Server management by Snel.com makes having an Azure VPS easy. We make sure that your server is optimally operational and secure. That is the main advantage of a Managed VPS Server by snel.com. We take providing good service very seriously. Our extensive and quick service makes a Microsoft Azure server accessible to SMEs. As a result, you don't need to invest in Azure knowledge within your company.
ISO/IEC 27001 Certified

We guarantee continuous improvement in security, availability, and quality.

Certified Green Host

We strive to continuously reduce our footprint with all of our processes.

Moving service

We will do the heavy lifting, and we are quick and thorough at it.
Swift answers

Guaranteed quick response times.
You can reach us 24/7/365.

100% Network uptime

We always like to give one hundred percent. So that's the uptime we offer.

Continuous improvement

We keep improving our processes to meet the highest standards.
What customers say about Snel.com
Johnathan T
Customer
Worked with them back in early 2011, excellent support and top of the line server/connection. Had to switch to a USA server due to clients in the USA. Excellent support, excellent server, would definitely recommend to anyone.
Jamie Whittingham
Customer
Snel.com has offered fantastic support, services, and great value for money. I have been using them for a few years and have recommended them to all our clients.They are the best on the market for our needs and we fit together like peanut butter and jelly.
Hugo van der Zee
Customer
After years of hosting problems with various hosting providers, we are very happy to have found snel.com.The price/quality of the services is excellent. The technologies and online tools are modern and easy to use, and support issues and questions were handled quickly and adequately.I definitely recommend snel.com.
Support was perfect. They solve my problem in no time. I'm extremely happy to work with Professionals.
FAQ Regarding Managed Azure VPS
We can deliver a Managed Azure VPS within 2-3 working days.
Yes, we use Snel Cloud backup to backup your server. Snel Cloud Backup has advanced and innovative security features to protect your data safely. It has fast, bandwidth-efficient backups as deduplication is client-side, saving storage space. Moreover Snel Cloud Backup offers you flexibility because after your first backup you do not have to make a full backup again. Our backup solution is fast, you can restore your oldest and newest backup with the same speed. Furthermore, Snel Cloud Backup is built with SSL support and the backups are made with an AES-256 encryption, so that your data is stored safely.
Constant monitoring can ensure uninterrupted service delivery. We are actively monitoring your server in order to reduce the vulnerability risk and to ensure that it is always available. Our server monitoring will detect irregularities on your servers, and our team will respond when inconsistencies or unusual activity occur. We ensure that your service runs smoothly by monitoring network connectivity, system status, or any of the countless other indicators. All of our managed server plans include 24/7 Proactive server monitoring.
One of the primary advantages of having a managed server is that you can delegate control of your server to us. This is our primary business and area of expertise. We have been focusing on server management for over 20 years and have encountered every challenge and its associated solutions. We will handle essential and specialized server maintenance and problem-solving activities, freeing up your hands and time to focus on your core business.
With this, we make it possible to purchase Azure from Microsoft even if you don't have an in-house IT expert. Microsoft Azure VPS is a popular offering, with up to three-quarters of Fortune 500 organizations utilizing it. With Microsoft's massive capacity, scaling up is a breeze, and even extending or transferring your business to one of the world's 53 additional server sites is an option.
We support Ubuntu Linux, Debian Linux, Windows Server 2022, and 2019 OS installations.
Managed Cloud VPS and  Managed Pure Performance VPS, are own Cloud Hosting platforms from Snel.com, both of which are hosted in Rotterdam, the Netherlands. The Managed Azure VPS is hosted on Microsoft's Cloud Hosting platform in Amsterdam and can also be expanded to one of the 53 other server locations of Microsoft Azure.
The Microsoft azure VPS' are hosted in Amsterdam, the Netherlands by default and our offsite backups are in the EU. If needed, we can provide and manage servers worldwide.
This all depends on the needed specifications. Our Managed Azure VPS start at € 219.00 monthly.
In general, we do not grant root or administrator rights to Managed Servers, therefore we are exclusively responsible for operating the server. If the customer still demands root or Administrator access, this can be granted under specific agreements.
Of course we secure them on server side. The customer has secure the websites/software by keeping them up to date.
How can we help?
Our customers praise us for the excellent service they receive. Would you like a taste? Get in touch with us, and we'll help you find the best solution for your hosting needs.