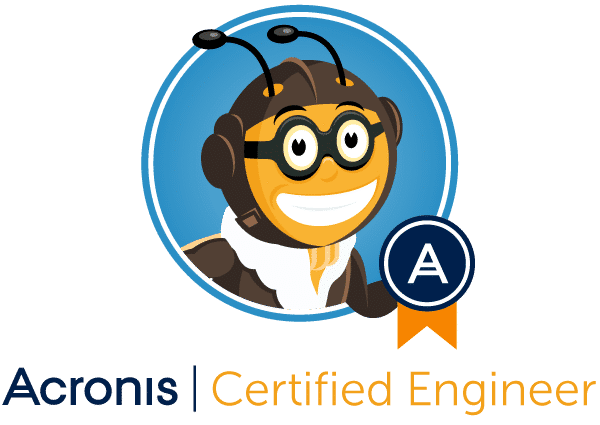 When it comes to protecting your valuable data and mission-critical systems, there are many solutions on the market claiming to be the best. But how many of these solutions truly offer a comprehensive package that covers both your backup and security? Today, we delve deeper into a solution that stands out from the rest: Acronis Cyber Protect Cloud.
At a Glance: What are Acronis' top features?
Acronis Cyber Protect Cloud is not just another backup solution. It is an integrated ecosystem that combines backup with robust security, specifically designed to shield your business from threats.
Ransomware Protection & Recovery:
Active protection: Acronis proactively defends against ransomware attacks, detects and halts them in real-time, and automatically restores any damaged data.
AI-driven protection: Acronis employs artificial intelligence to recognize and block new, yet undiscovered ransomware attacks.
Universal Recovery:
Quick recovery: With Acronis Instant Restore, you can boot up from a backup as a virtual machine within 15 seconds, without data movement.
Flexible recovery: Whether you have new hardware or diverse systems, Acronis Universal Restore allows for easy recovery, thanks to the automatic integration of the right drivers.
Secure Data Cloud Backup:
365 Protection: Secure your Microsoft 365 data with backups of emails, contacts, calendars, Teams chats, and attachments.
Safe sharing: Share your files and folders securely from any location without concerns about data loss or unauthorized access.
Remote Workspace Protection:
Endpoint protection: Guard all your endpoints against cyber threats, regardless of where your team is located.
Secure VPN access: Ensure a secure and seamless connection for your remote workers, allowing them safe access to company resources.
Patch management:

Automatic updates: Keep your systems current and safe with automated patches for your software.
Reduced vulnerabilities: Lower the risk of breaches by always using the latest and most secure software versions.
Today's digital threats demand advanced solutions. It's not just about having a backup, but ensuring the integrity of that backup. For instance, ransomware attacks can affect not only your current systems but also compromise your backups. This is where Acronis Cyber Protect Cloud excels. It provides ransomware-proof backups, ensuring you always have a safe, uncompromised copy of your data.
Additionally, the modern work environment can be complex. Many of us work remotely, bringing its unique set of challenges and threats. Acronis understands this and offers specific protection for remote workers, ensuring your business and your employees are always protected.
Certified Acronis engineers.
At Snel.com, we are not only excited about the capabilities Acronis offers; we are also experts in its implementation and management. We are proud to mention that we have certified Acronis engineers on staff. This means when you opt for Acronis via Snel.com, you not only benefit from a top-tier product but also from the knowledge and expertise of a trained team.
Conclusion
Protecting your business isn't optional; it's a necessity. With Acronis Cyber Protect Cloud, you're prepared for today's and tomorrow's challenges. Coupled with support from Snel.com, you're guaranteed smooth implementation and management.
Considering making the switch to Acronis, or if you just have some questions, don't hesitate to contact us. Our team of experts is here to assist you.