New customer offer: Now 53% off on all Reseller Hosting Plans for the first 6 months. Use this discount code: 50RESOFF
Reseller Hosting Essential
LiteSpeed Enterprise Cache
10 websites + unlimited subdomains
Let's Encrypt + Wildcard SSL
Datacenter location the Nederlands
€ 29.99 € 14.99
per month
Reseller Hosting Advanced
LiteSpeed Enterprise Cache
20 websites + unlimited subdomains
Let's Encrypt + Wildcard SSL
Datacenter location the Nederlands
€ 49.99 € 24.99
per month
LiteSpeed Enterprise Cache
30 websites + unlimited subdomains
Let's Encrypt + Wildcard SSL
Datacenter location the Nederlands
€ 69.99 € 34.99
per month

Free Moving Service
---
When you become a customer at Snel.com, you can rely on our Free moving service, and we will migrate up to four websites and their associated mailboxes for you. All you need to do is give us the relocation information. Don't worry, we'll explain what information we require and where you may obtain it. Moving your website(s) is generally possible without any downtime.

Plesk Control panel
---
You're up for a quick and easy start with the Plesk Control Panel. It is the most complete and user-friendly control panel available at the moment. As a reseller you receive a Manager Plesk panel in which you can create and manage your hosting branding, your own hosting packages and the various customers and their Plesk panelsWith the built-in editor, you can install applications with a single click and handle files with ease. As a result, you no longer require an external FTP application.

Litespeed Enterprise Cache
---
We offer this by using LiteSpeed​​​ in addition to our own powerful resources. This is an advanced web server and caching solution that has been measured and proven to outperform any other caching option. With LiteSpeed hosting we can guarantee the best loading times. Your website or webshop has the latest caching technologies built in as standard. Litespeed also offers the possibility to use the QUIC.cloud "content delivery network"

White Label Reseller Hosting
---
With our White Label Reseller Hosting you can sell web hosting under your own brand name. From your Managers Plesk panel you can fully personalise the customer experience with your own branding. You can easily add your own logo in the control panel. As a result, your customers do not see our logo but the logo of your company. You can also set your own name servers. All our packages come standard with White Label Reseller Hosting options.
Choose Your Reseller Hosting Plan
Our White Label Reseller Hosting allows you to sell web hosting under your own brand. We use only SSD drives. With this, we ensure speed and stability for you and your clients. Our reseller hosting plans are suitable for small hosting providers, developers, marketers, and business owners. Our packages are immediately available upon purchase and expandable as your business expands. Review our broad list of standard and optional features listed below.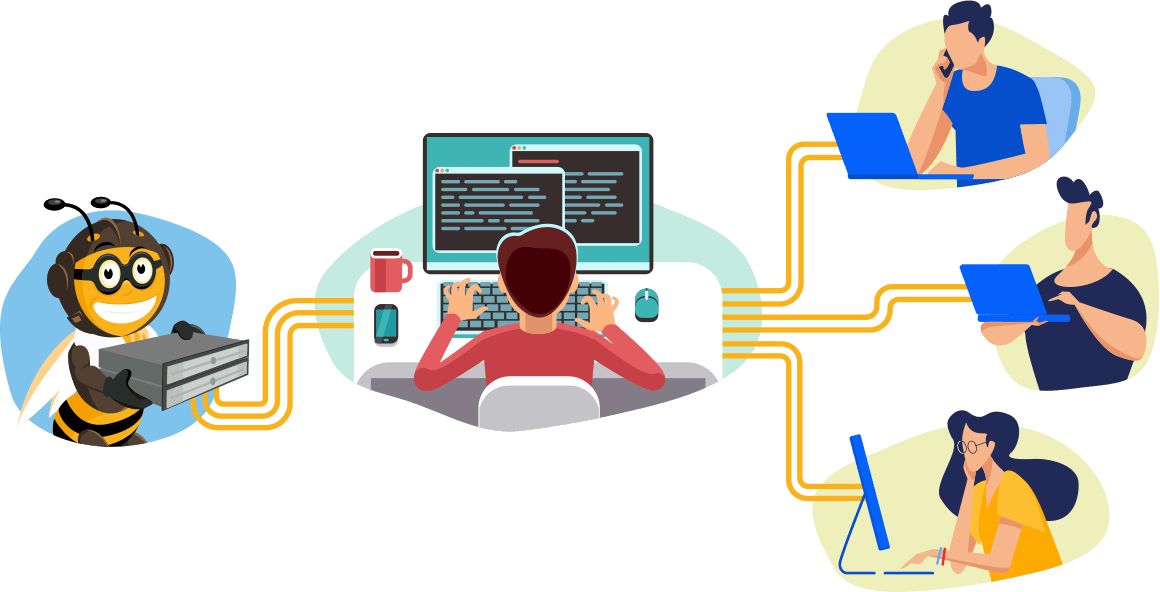 Plesk Reseller controlpanel
Anti-malware (Imunify360)

Outgoing filter (SpamExperts)
Installatron (One-click Apps instal)
Snel Cloud Backup (Daily backups)
LiteSpeed Enterprise Cache
Dedicated IPv4 or IPv6

+ € 2.49

Incoming spamfilter (SpamExperts)

+ € 2.49

30 days Backup retention

+ € 8.99

Smart Updates for WordPress

+ € 3.99 per domain
Your Reseller Hosting Account,
runs on a Redundant Platform
We have put together reseller hosting plans with the best resources and features. All plans run on a redundant platform which means that if a failure occurs your web hosting accounts will remain available on another machine. With an uptime availability of 100%, your reseller hosting account will always be available. Since all of our plans are managed, we are responsible for keeping your plan above water whenever you experience slow loading times, timeouts, or any other issues. With more than 20 years of experience in this industry, you can rely on a team of experts with a wide knowledge of all technical aspects in this industry.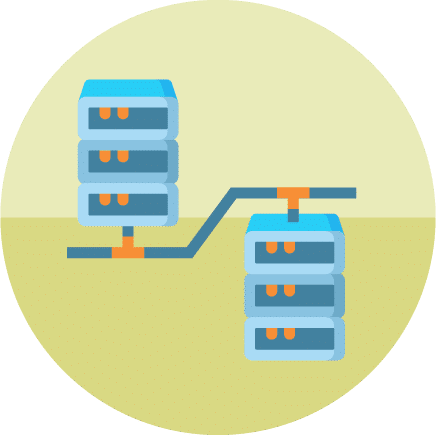 Reseller Hosting Features

 ISO 27001 Certified
---
Snel.com is 27001 certified. High quality and security are important values to our company so we make sure that we have clear information processes and appropriate security measures that are periodically tested.

Snel Cloud Backup
---
Protect and restore your data with Snel Cloud Backup. Since datasafety is very important, we make at least one backup daily and you can easily recover one simple file or an entire backup. This provides you complete control over your data. 

QUIC.cloud

---
QUIC.cloud is a content delivery network that hosts the static and dynamic components of your website at multiple global points of presence (PoP). This speeds up site loading for remote users. Image optimization and WordPress security features from QUIC.cloud speed up and secure your website.

Data stored in NL and EU

---
Your data is safely stored in the Netherlands and Europe. You can rest assured that your data will never be offered or sold to third parties. Furthermore, the backup of your data is only stored in Europe.

Always up-to-date

---
Don't wait any longer until your system administrator has time to install or perform updates on your server. We do this for you without additional costs.

Highly secured mailbox
---
Your mailbox is highly secured thanks to our Anti-virus protection. Your emails will be protected and this will reduce the vulnerability of your mailbox.

Plesk Account Management
---
Manage your own hosting accounts with Plesk control panel. You can manage the settings of your websites, emails, and add users to your account.

Fully Managed

---
We're there for you, that's a promise. Our engineers have over 20 years of experience in this industry. So your account is managed by a team who knows exactly how to deal with any kind of request.

Imunify 360
---
Imunify360 offers six layers of web server security. It includes an advanced firewall, malware detection, software patch management, proactive defense for PHP websites, intrusion detection and protection, WebShield with integrated Captcha, and more.

SEO Toolkit
---
SEO Toolkit improves your visibility. You will get better search engine rankings by testing, analyzing, and monitoring your website.

Installatron
---
Installatron is a one-click web application installer that allows you to install forums, blogs, photo galleries, and other applications instantly with just a single click.
ISO/IEC 27001 Certified

We guarantee continuous improvement in security, availability, and quality.

Certified Green Host

We strive to continuously reduce our footprint with all of our processes.

Moving service

We will do the heavy lifting, and we are quick and thorough at it.
Swift answers

Guaranteed quick response times.
You can reach us 24/7/365.

100% Network uptime

We always like to give one hundred percent. So that's the uptime we offer.

Continuous improvement

We keep improving our processes to meet the highest standards.
FAQ Regarding White Label Reseller Hosting
A white label reseller in the hosting industry is a person or corporation that resells the services of a hosting provider under its own name, hence white-label, to other people or businesses. As a result, the reseller is the owner of the clients for which the services are offered, and it handles customer care and acquisition.
Yes, you can name your own nameservers. Both you and your customers are allowed to manage your own records via your control panel which makes our Secondary DNS quite unique.
Website creation and maintenance are not included in our White Label Reseller hosting package. Our professional staff of experts provides technical help 24 hours a day, seven days a week. Furthermore, if you have any queries regarding your reseller hosting settings or technical difficulties in the hosting department, we are pleased to assist you at any time (think of lagging, backups, safety).
You'll have everything you need to get started once you sign up for White Label Reseller Web Hosting. We also offer a large knowledge base to assist you with numerous setup issues.
If you manage more than 30 websites, we recommend a Managed Server. In principle, the logical growth step of a Reseller Hosting Expert package is a Managed Cloud VPS, but you may have a larger number of customers/websites or higher requirements. Contact us for personal advice.
If you're a web designer or developer, you may have managed customers' websites on another server. Reseller hosting is advantageous since with Snel.com as your parent hosting provider offers 24/7 technical assistance. Reseller hosting ensures your web server has all it needs. Backend, network, and infrastructure maintenance are included. It updates software and checks security.
We do not provide a billing service for customers. Many hostingcompanies provide reseller hosting through an affiliate program and thus automatically they need to handle the billing and handle your fee. With our white label hosting, you can be independent and provide your consumers a one-of-a-kind service with your own conditions, rates and billing.
Yes absolutely, we encourage you to create at least 3 hosting packages. Combining various services and providing them at various price points helps you establish the validity of your business and draws clients with various needs and spending levels.
All our packages are suitable for running WordPress. Especially for those who want to get the most out of their WordPress configuration, we have developed packages that are optimised for WordPress Hosting.
How can we help?
Our customers praise us for the excellent service they receive. Would you like a taste? Get in touch with us, and we'll help you find the best solution for your hosting needs.