If you have purchased a Reseller Hosting package from us, it comes standard with the Plesk Host Edition, in which you also personalise your branding and which is designed for you to efficiently manage your products and customers. This user-friendly control panel equips you with all the necessary tools to administer your web hosting business. With features such as creating hosting plans, managing customer profiles, and generating individual Plesk panels for your clients, you have complete control over your services. What's more? Everything is automated and requires minimal technical knowledge. So whether you aim to expand your customer base, offer personalized hosting packages, or simply perform your daily tasks more efficiently, the Plesk Host Edition provided with our Reseller Hosting package makes it possible.
In this article, we will guide you on how to create hosting packages, how to establish customer profiles, and how to provide these customers with their own Plesk panel, enabling them to utilize their hosting package.
[Optional] If your client has not yet registered a domain name with Snel.com, you can register or transfer it on their behalf and direct it to Snel.com using DNS. Please refer to this article for instructions. Following that, you can proceed with the steps below to create service packages and set up clients.
How do you create service packages (hosting packages) for your customers?
Step 1: Login to your Snel.com Clientarea and into Plesk
1.1 Login to your Clientarea
1.2 There you will see your active services in the Dashboard, click on Reseller Hosting
1.3 When you are in your package, click on login details at the top right to see the Plesk login details
1.4 Log in to your Plesk panel. You can do this by clicking on the URL under login details that will take you to the Plesk login screen. Here you can enter your username and password.


Step 2: Create Service (hosting) plans
2.1 Click on "service plans" in the left panel.
2.2 Then click on "+ add a plan".
2.3 Fill in the relevant information. This is the name of the package, any comments, and the resources and services you want to offer (such as disk space, traffic, number of databases, etc.).
2.4 Click "OK" to save the package.
How do you create a Customer account?
Step 3: Create Customer accounts
3.1 Click on "Customers" in the left panel.
3.2 Click on "+ Add Customer".
The screen below will open.
3.3 Fill in the clients information, such as the contact information and Additional client information.
3.4 Enter the desired login details with which your customers can access their normal web hosting Plesk panel.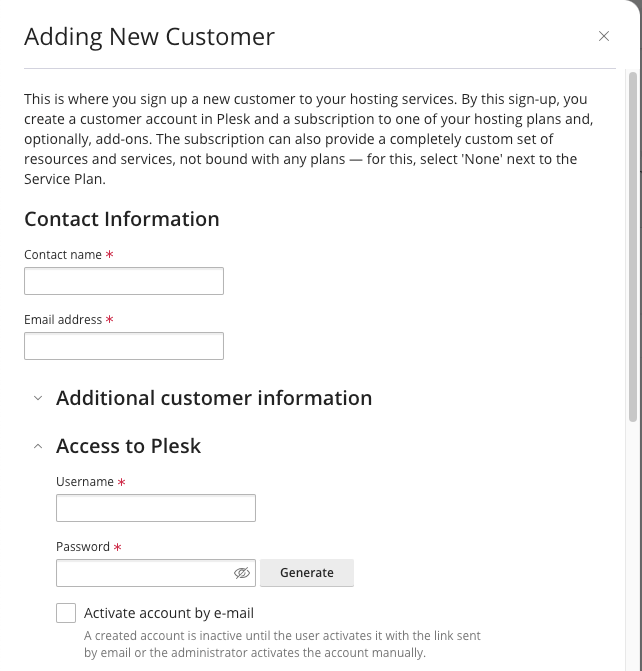 3.5 Scroll further down and check the "Create subscription for the customer" checkbox.
3.6 Choose "Registered domain name" here and enter it under the entry field "Registered domain name"
[Optional] Choose "temporary domain name" here, in case you don't have a domain name yet but just want to test this function or prepare it for a customer, you will then receive a temporary domain name.
3.7 Under "Service plan" select the previously created service plan that you want to assign to this customer.
3.8 Click the "Add Customer" button to save the client account with the domain name and service package.

Now you know how to create customers and how to subscribe them to your services
You have now created service plans (hosting plans) for your customers, created customer accounts with related domain names, created Plesk login for your customers and subscribed these customers to your hosting plans. Of course a lot more is possible with your reseller account, for example have you already looked at the branding options with which you can implement your own brand in your hosting panels? Check out our support portal under web hosting to find many more manuals for web hosting, Plesk and reseller hosting specifically.
Source: Full Official Plesk manual