Have you purchased one of our web hosting plans or reseller hosting plans and do you want to link a domain name to it with the right DNS records? In this article we explain how to do this.
Register or transfer Domain name
You can find a domain name search bar in several places on our website, for example on the homepage or on the domain name page
Step 1: Find your domain name
1.1 Enter the desired domain name in the search bar


1.2 Then click on Transfer or Register depending on whether you want to transfer an existing domain to us or register a new domain with us.
Step 2: the ordering process of the domain name to be transferred or registered
2.1 You will now enter the order screen, click on "Continue" to continue to the next screen.
2.2 Log in if you are a registered client or enter your details if you are a new client.
2.3 [ONLY FOR MOVING] Enter the transfer code of your current domain host. You can usually find this transfer code in your customer area at your current host or you can obtain it by contacting your current hosting provider.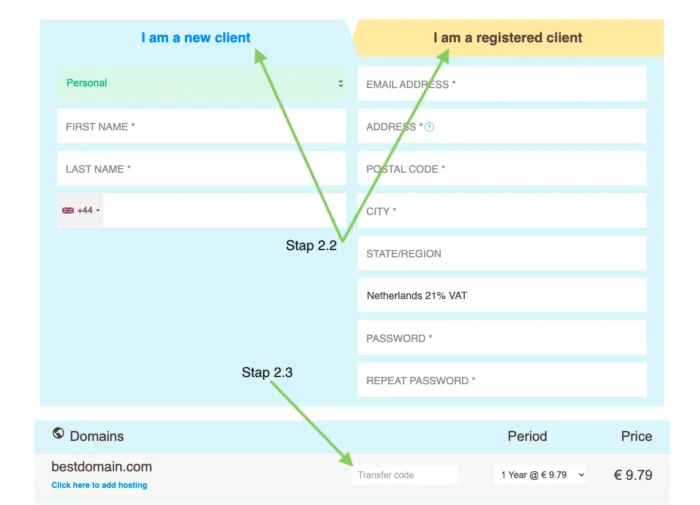 Step 3: The right nameservers
3.1 Scroll further down on the same page and you will find the "Nameservers" section. This is where you can choose to use Snel.com's nameservers, or enter your own nameservers.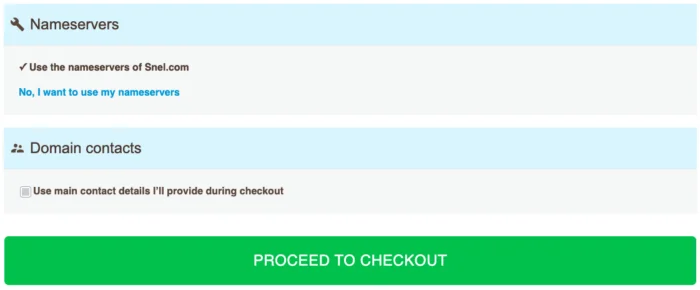 3.2 Click "Proceed to checkout" and complete the order
Your domain name is now linked to Plesk
After following these steps, the DNS records for your nameservers will be added to your web hosting or reseller hosting plan, which will correctly route traffic to your domain name. If you have one of the web hosting plans, you can now also find the domain name in your Plesk environment. If you have a Reseller Web Hosting plan, see step 3 of this article.