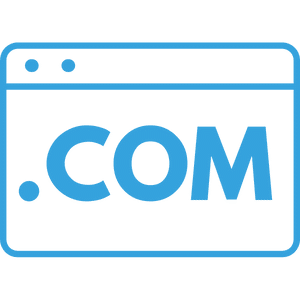 Reach your target audience with the right domain extension
When choosing a domain name, the extension or top-level domain (TLD) is just as important as the name itself. The TLD tells more about the nature of the website. For example, if you want to target visitors from the Netherlands, a .nl extension is the best choice. A .com extension is used worldwide and is therefore suitable for international websites. In addition, there are also extensions such as .shop, .online, and .blog that make the content of your website even more clear.
Popular domain extensions
Find your perfect
domain extension!
*Promotional rate applies for the first year, after that the regular rate applies.
What is a domain extension?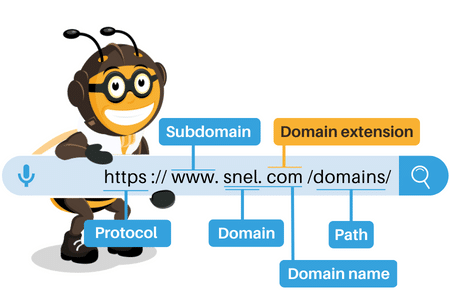 In general, a domain extension gives you the opportunity to convey specific information about your website to the visitor. For example, a .nl extension can indicate that the website is aimed at the Dutch market, while a .org extension can indicate a non-profit organisation. Meanwhile, many new extensions have been added, such as .shop and .online, which are specifically intended for e-commerce websites.
Choosing the right domain extension is therefore almost as important as choosing the domain when registering a domain name. By considering the nature of your website and your target audience, you can choose the best domain extension to achieve the desired image and goals of your website.

Free Moving
Service
---
When you become a Snel.com customer, you can use our moving service. We will transfer all your domain names for you. All you have to do is provide the relocation details. Contact us and have your domain name transferred immediately without any hastle.

Free Whitelabel Service

---
We're happy to help you build your brand identity. That's why we offer free white label service with all our domain names. With white label service, you can offer our services without us appearing in the WHOIS. This way, you can focus on your customers and we'll take care of the technical details.

Standard with DNSSEC
---
Safety is of great importance to us, which is why we offer free DNSSEC with all our domain names free of charge. With DNSSEC, DNS requests are extra secure, providing better protection for your website against possible attacks. This way, you can do online business with peace of mind.
ISO/IEC 27001 Certified

We guarantee continuous improvement in security, availability, and quality.

Certified Green Host

We strive to continuously reduce our footprint with all of our processes.

Moving service

We will do the heavy lifting, and we are quick and thorough at it.
Swift answers

Guaranteed quick response times.
You can reach us 24/7/365.

100% Network uptime

We always like to give one hundred percent. So that's the uptime we offer.

Continuous improvement

We keep improving our processes to meet the highest standards.
FAQ Regarding Domain Extensions
A domain extension is the last part of an Internet domain name, such as .com, .org, .net, etc. It indicates the purpose, region or type of website.
When choosing a domain extension, it is important to consider what your website is for. .com is often used for commercial purposes, .org for non-profit organizations, .edu for educational institutions, etc.
A generic domain extension (e.g. .com, .org) is not tied to a specific country and can be used worldwide. A country code domain extension (e.g. .nl, .de) is specific to a particular country or region
Yes, it is possible to change domain extensions. However, it requires technical steps like redirecting traffic and updating links, and it can affect your search engine optimization and brand awareness.
The choice of domain extension in itself does not directly affect SEO. Search engines like Google treat all domain extensions equally. The content and quality of your website are more important for SEO.
Yes, some domain extensions have specific registration requirements. For example, some country code domain extensions require you to be a resident or business in that country.
Reliability does not depend on the extension, but rather on the reputation and security measures of the registrars and hosting providers. Traditional and new extensions can both be reliable.
If the domain extension and domain name extension you want is already registered, consider choosing a different extension or finding another domain name that is available with the extension you want.
How can we help?
Our customers praise us for the excellent service they receive. Would you like a taste? Get in touch with us, and we'll help you find the best solution for your hosting needs.