Introduction
In this article we will be going over generic settings for IMAP and SMTP and explaining what these settings are used for when setting up a generic mail client.
IMAP & SMTP explained
Simple Mail Transfer Protocol, or as we call it SMTP is a server application that sends, receives and relays outgoing emails between senders and receivers. An SMTP server will have an address (or addresses) that allows you to set it by the mail client or application that you are using or wish to use, and it will look like smtp.[insert server address].com.
Internet Mail Access Protocol, or in short IMAP, allows you to access your mail at any moment and on any device, so when you read a message, you aren't actually downloading it or storing it on the computer, but you are reading it from the email service. This means you can use any device to view messages.
Generic settings for IMAP & SMTP
The generic mail settings for IMAP & SMTP are listed within Plesk when setting up your mail client manually, they are the following:
To connect via POP3 securely over SSL/TLS, use port 995.

To connect via IMAP securely over SSL/TLS, use port 993.

To send messages via SMTP securely, use port 465.
To access the other information such as incoming and outgoing mail servers you will need to go to Mail > Email Addresses and then Manual setup.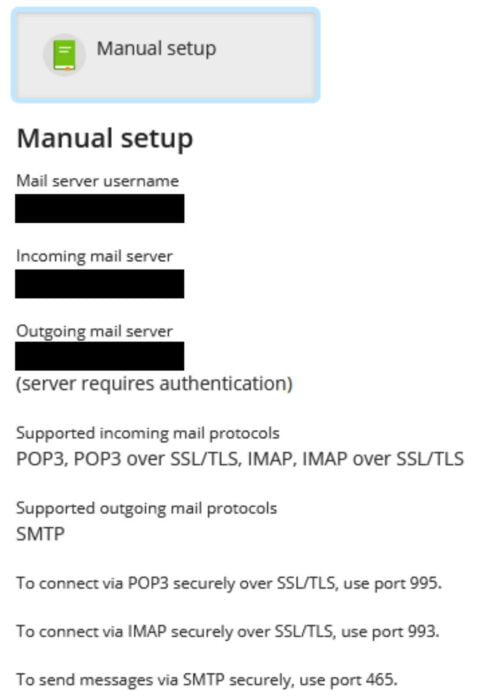 Conclusion
In this article we have explained IMAP & SMTP and have covered the generic settings.