After investing on a Whitelabel Reseller hosting package, you are now prepared to begin setting up everything correctly so that you may start serving customers. This article explains how to completely setup your reseller hosting package and provides links to articles that can help you do so. If you plan to use our moving service, let us know by contacting us as soon as you make your order so we can set up a moving date with you.
Prerequisites
Start with Reseller Hosting after you have purchased a reseller package at Snel.com
Step 1: Register or transfer a domain
1.1 In this article we explain in detail how to register a domain name at Snel.com or transfer it to us.
Step 2: Provide your hosting with your own Branding
2.1 Read in this article how you can personalize preferences, settings, buttons and branding for both yourself and your customers.
Step 3: Create hosting packages and customers and subscribe customers to your services
3.1 You can read how to do this in this article.
Step 4: Automate installation of WordPress and SSL
[Attention!] You can only perform this step if you have already created hosting packages
4.1 Login to your Clientarea
4.2 There you will see your active services in the Dashboard, click on Reseller Hosting
4.3 When you are in your package, click on login details at the top right to see the Plesk login details
4.4 Log in to your Plesk panel. You can do this by clicking on the URL under login details that will take you to the Plesk login screen. Here you can enter your username and password.


4.5 Go to service plans and select the plan for which you want to automate this, these settings will then apply to all customers who (you) subscribe to this plan.



4.6 Click on the "Additional services" tab and select the desired automatic WordPress installation from the "WP Toolkit" drop-down menu.



4.7 select "SSL It!" from the drop-down menu Keep websites secured with free SSL/TLS certificates.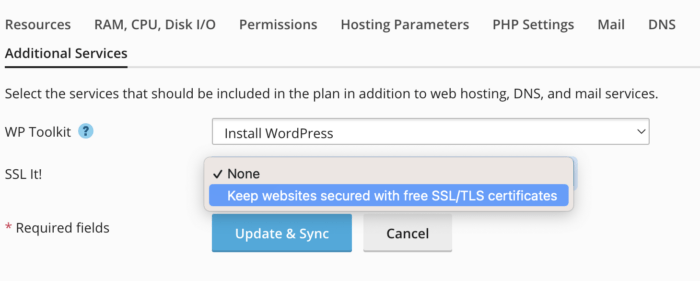 4.8 Click on "Update and Sync" to save
Your Reseller Hosting environment is ready to serve customers
You can now get started and serve your customers. If you still have questions, you can always contact us to help you further.