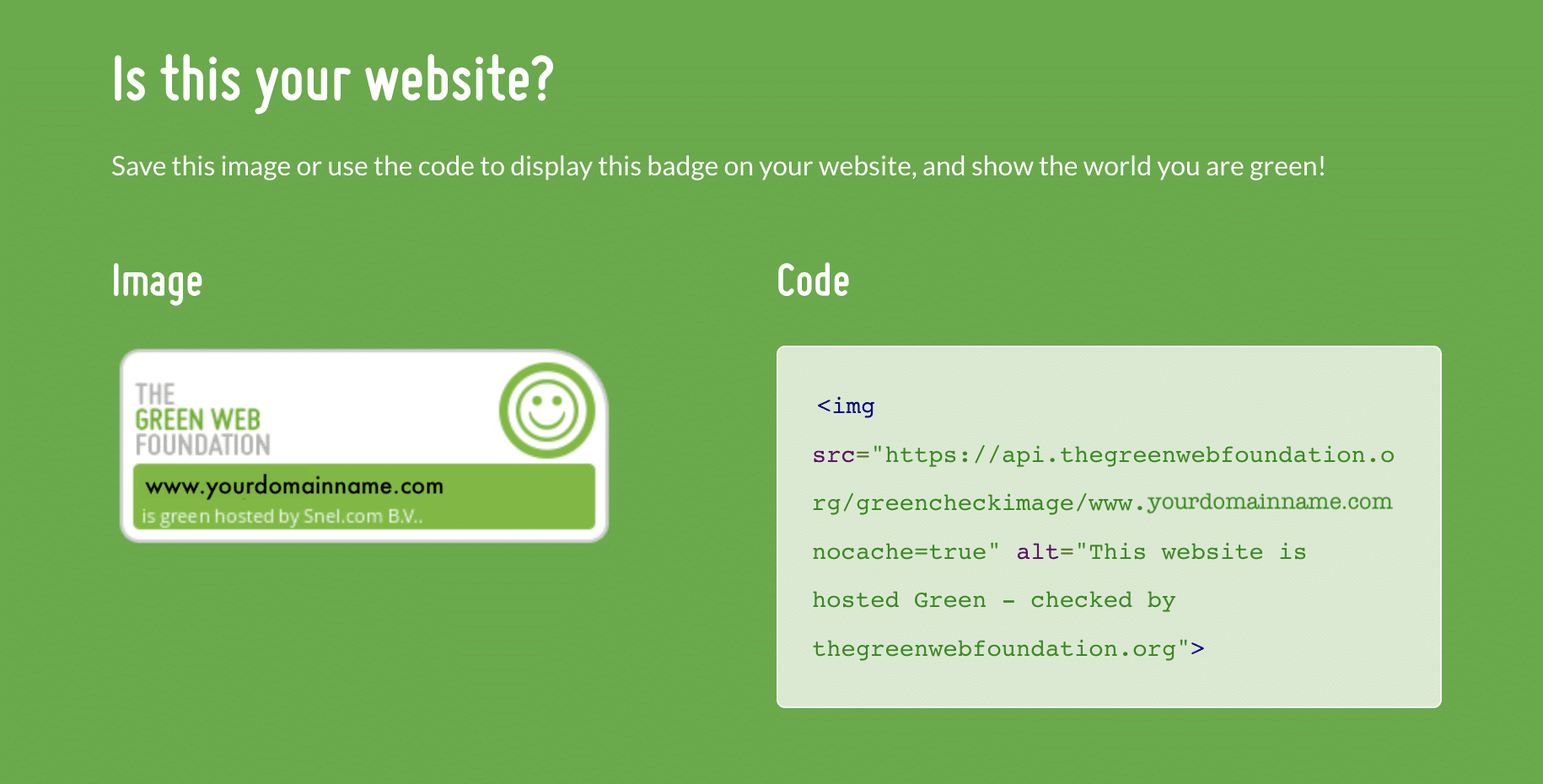 Snel.com Going Green!
Great news! We, Snel.com, have recently been certified as a green host by the Green Web Foundation. This is an important milestone for us as a company, as we have been committed to implementing sustainable activities and reducing our carbon emissions for over 13 years. In this article, we discuss the importance of the Green Web Foundation, our commitment to sustainability and how you as a customer benefit from our green hosting certification by also receiving the badge. In short, at Snel.com you can now enjoy green hosting with peace of mind!
Who is The Green Web Foundation?
The Green Web Foundation is a non-profit organisation that was founded in the Netherlands in 2011. Its mission is to make the internet a more sustainable place by promoting and certifying green web hosts. The foundation aims to raise awareness about the environmental impact of the internet and encourage companies to adopt more sustainable practices. They do this by providing a database of green web hosts that have been certified based on their use of renewable energy sources.
As a hosting provider, we recognise the importance of reducing our carbon footprint and implementing sustainable practices. We believe that it is our responsibility to contribute to the preservation of our planet and reduce the impact of our operations on the environment. To achieve this, we have taken several measures to reduce our energy consumption and increase our use of renewable energy sources.
How do we reduce our carbon footprint?
The latest economical technology
Snel.com makes every effort to lower its CO2 emissions. Implementing energy-efficient technology and equipment is one way we've done this. Since we have made significant investments in cutting-edge technology, we have been able to significantly reduce the number of bare metal servers and their energy usage. Examples of these cutting-edge technologies include NVMe servers, which are specifically made to use less energy without sacrificing performance, and Cloud VPS deployments, which enable us to run the server more efficiently and at full capacity.
Recycling program for longer life
Also, we have established a solid recycling program that enables us to responsibly reduce and recycle our electronic waste. We have also developed a purpose for servers that no longer fit our high quality standards, which helps us minimise waste even more. Instead of discarding them, we provide them as Budget Dedicated Servers at Snel.com to increase their usable life. The servers that no longer fit our requirement for Budget Dedicated Servers have not yet been retired since we set such high expectations on our equipment; instead, we donate them to NGOs that can use them for a number of years. Servers are only recycled if they are indeed irreparably damaged. Together, we lessen our ecological footprint in this way.
Data center even greener with residual heat project
Furthermore, SmartDC, the data center where we host our servers, is totally powered by wind, solar, and hydropower, all of which are sustainable and have a lesser environmental impact than traditional energy sources such as fossil fuels.
SmartDC just made another step toward becoming a more sustainable data center. As part of their waste heat initiative, they used heat pumps instead of chillers to cool servers. The remaining heat from the servers will be diverted to adjoining offices at the Van Nelle Factory (a UNESCO World Heritage site), reducing the need for typical cooling systems with a huge CO2 impact. This not only makes the data center more environmentally friendly, but it also cuts the gas usage of surrounding offices by up to 80% during the winter months.
Snel.com office runs 100% on green energy
Another way in which we contribute is by generating 100% of the electricity at our office through solar panels. In fact, we have been able to produce so much solar energy that we now power charge stations for outside cars on our property.
Our customers now get the green check too!
Our commitment to sustainability has been recognised by the Green Web Foundation, who have certified us as a green host. This means that you as our customer will get the green host check for your website(s) too. Go to Green web check enter your website and get the badge to show your customers you care about your online carbon footprint!
In conclusion, our commitment to sustainability is an important part of how we run our business, and we think it is our duty to help protect our planet. By choosing to host your website with us, you are helping the environment and showing others how to make the internet more eco-friendly. We encourage everyone who is willing to listen to adopt more sustainable habits to help make the future more sustainable.