New customer offer: Now 60% off on all Web Hosting Complete Plans for the first 12 months. Use this discount code: 60WHOSTOFF
LiteSpeed Enterprise Cache
1 website + unlimited subdomains
Let's Encrypt + Wildcard SSL
Datacenter location the Nederlands
LiteSpeed Enterprise Cache
2 websites + unlimited subdomains
Let's Encrypt + Wildcard SSL
Datacenter location the Netherlands
LiteSpeed Enterprise Cache
4 websites + unlimited subdomains
Let's Encrypt + Wildcard SSL
Datacenter location the Netherlands


Moving Service
---
When you become a customer at Snel.com, you can rely on our free moving service, and we will migrate all of your website(s) (within the paid package) and the associated mailboxes for you. All you need to do is give us the relocation information. Don't worry, we'll explain what information we require and where you may obtain it. Moving your website(s) is generally possible without any downtime.

Plesk Control panel
---
You're up for a quick and easy start with the Plesk Control Panel. It is the most complete and user-friendly control panel available at the moment. With the built-in editor, you can install applications with a single click and handle files with ease. As a result, you no longer require an external FTP application. If you wish to use a specific functionality in Plesk, there are numerous online resources to consult. The only way managing a website could be easier would be by outsourcing it.

LiteSpeed Enterprise Cache
---
It is critical that your website(s) load quickly. We provide this by combining LiteSpeed with our own robust resources. This is a sophisticated web server and caching solution that has been tested and confirmed to surpass all other caching options. We can ensure the fastest loading times with LiteSpeed hosting. Your website or webshop has the most recent caching technology as standard. This eliminates the need to hire a professional or devote the time to (learn to) do it yourself.

Thorough customer service
---
We provide you with all the resources you need for a QUICK start, but it inevitably happens that you run into problems or need additional help. Contact us at any time by phone or email.
Even on weekends, you can ask questions 24/7. We are quite pleased of the fact that one of the most commonly cited factors in our high client appreciation is the quality of our service.
Which hosting package suits your website?
Web hosting is required if you wish to publish a website or webshop. We ensure that your website, blog, or even your webshop is constantly visible, safe, and accessible to your visitors with our all-inclusive web hosting services. Which web hosting package is best for you is highly dependent on the amount of visitors visit your website, webshop, or blog.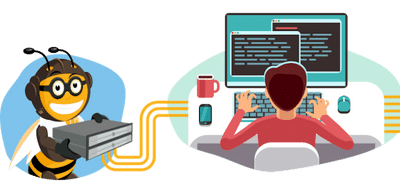 From company page to extensive webshop
Choose the Website hosting Pro or Plus option if you only have one company website or blog. Website Hosting Prime is a natural choice if you have up to 4 websites or a webshop with powerful applications. Regardless if you have a WordPress, WooCommerce, Joomla, or Drupal website or webshop.
Your own professional email address
With every web hosting package you will receive our standard professional outgoing e-mail filter from SpamExperts. This allows you to securely send e-mails from your web hosting account with your own @yourcompany.com domain name, without it ending up in the SPAM/Junk box.
Anti-malware (Imunify360)

Outgoing filter (SpamExperts)
Installatron (One-click Apps instal)
Acronis Cyber Protect Backup
LiteSpeed Cache Enterprise
Dedicated IPv4 or IPv6

+ € 2.49

Incoming spamfilter (SpamExperts)

+ € 2.49

30 days Backup retention

+ € 8.99
Webhosting Functionalities

ISO 27001 certified

---
We are proud to say that we are 27001 certified. We aim at constantly improving the quality and security of our services and processes. All of our security measures are periodically tested so that we always meet the highest security measures.

Daily Backups
---
Your data is backed up daily with Acronis Cyber Protect Backup. You can recover a single file or an entire website very easily. With this offsite backup solution you can not only protect and restore your data, but you also get full control over your data.

Anti Malware

---
Thanks to Imunify360's six layers of web server security, we can prevent attacks much faster. Imunify360 is very advanced and offers by default malware detection, software patch management, proactive defense for PHP websites, and intrusion detection.

SEO Toolkit



---
Our SEO Toolkit improves the visibility of your website. You will get better search engine ranking results because it provides tools that help you with testing, analyzing, and monitoring your website.

Installatron
---
Installatron is a web application installer. It is handy because it allows you to install your forums, blogs, photo galleries, and other applications right away with just one click.

Data in NL & the EU
---
We safely store your data in the Netherlands. In addition, your data's backup is only stored in Europe. Furthermore, we have a strict policy regarding protecting your data s it will never be sold or offered to third parties.

IPv6 Connectivity



---
Just like any of our plans, your hosting account will also be completely ready for the future with IPv6 connectivity. We will instantly activate your IPv6 address right after your order.

Always up-to-date
---
Your web hosting account will always be up to date. We will install and perform updates on your account at a free charge. So you do not have to wait any longer until your system administrator has time to perform updates.
ISO/IEC 27001 Certified

We guarantee continuous improvement in security, availability, and quality.

Certified Green Host

We strive to continuously reduce our footprint with all of our processes.

Moving service

We will do the heavy lifting, and we are quick and thorough at it.
Swift answers

Guaranteed quick response times.
You can reach us 24/7/365.

100% Network uptime

We always like to give one hundred percent. So that's the uptime we offer.

Continuous improvement

We keep improving our processes to meet the highest standards.
Hugo van der Zee
Customer
After years of hosting problems with various hosting providers, we are very happy to have found snel.com.The price/quality of the services is excellent. The technologies and online tools are modern and easy to use, and support issues and questions were handled quickly and adequately.I definitely recommend snel.com.
Jamie Whittingham
Customer
Snel.com has offered fantastic support, services, and great value for money. I have been using them for a few years and have recommended them to all our clients.They are the best on the market for our needs and we fit together like peanut butter and jelly.
Muslim Abdul Kader
Customer
Snel.com has offered fantastic support during the early setup period, where it is most needed. They were quick and even went further to be supportive real time almost.I have been using them only for few months now, but i am extremely happy and will purchase from them again in the future too.
Albert Briu
Customer
We have been using SNEL services for years. Very good quality, no breakdowns and downtime. Great hosting services! Customer service responds to every question in several minutes! We have never had any reservations. We recommend! 🙂
FAQ Regarding Web hosting Complete
Web hosting is the purchase or rental of an online space where you can store your website(s) and publish it online so that it is available for others to access on the world wide web. People visit your website/online space by typing the URL (your address) that refers to your domain, or your online address, into the browser.
Our web hosting has the most complete configuration by default. Email, SSL certificates, LiteSpeed Enterprise caching, migration, daily offsite backups, security and more are all included in the price as standard.
Our web hosting packages offer space for up to 4 websites, for which you can create an unlimited number of subdomains. If you host more than 4 domains, a hosting reseller package is the product you are looking for. With this package you can create and manage different customer panels through your manager Plesk panel. You can offer your customers hosting under your own brand name with a completely personalized experience. Read more about starting your own hosting brand in this blog.
If you have a business website or blog with low traffic, Webhosting Pro or Plus should suffice. The Prime bundle is appropriate for a webshop or a busy website due to its increased RAM and CPU. We have also optimized our Managed WordPress web hosting packages for WordPress, and if you manage more than four websites, White Label Reseller Hosting is an excellent option for providing your own hosting.
All our packages are suitable for running WordPress. Especially for those who want to get the most out of their WordPress configuration, we have packages that have been developed for WordPress Hosting.
The Free transfer service of your websites is included starting from the Website Hosting plus package. 
If you'd like to request a standalone relocation, for instance because your hosting package has been active for some time already, or because you have a Pro website hosting package, we can transfer your website, the corresponding mailboxes, and DNS records for a fee of 79 euros.
If you have a hosting package that can accommodate 4 websites, we will move all 4 of them for you. We need some information from you to be able to do this, when we have received it you can sit back and let us take care of the rest.
Due to the easy-to-use Plesk panel, for which many resources can be found online, in combination with installatron with which you can install various helpful applications in one click, our hosting packages can be used easily by private individuals or self-employed persons. In addition, we also offer a WordPress and SEO toolkit, which will take you a long way with minimal knowledge.
That is certainly possible. You can purchase our web hosting Complete packages individually and resell them or you can also purchase one of our reseller hosting packages where you can put together your packages yourself and offer them under your own name.
How can we help?
Our customers praise us for the excellent service they receive. Would you like a taste? Get in touch with us, and we'll help you find the best solution for your hosting needs.