Managing multiple services can be tricky at times, especially when it comes to remembering the expiration date of each subscription. Fortunately, we have now introduced a new feature that allows you to enable auto-renewal for all current and future services. Here's how you can set it up:
How do you set up auto-renewal?
Step 1: Click on your name under welcome in the top right corner of your my.snel.com panel.
Step 2: In the drop-down menu that appears, choose 'Support'.
Step 3: Select the option 'Enable auto-renewal for all services/domains'.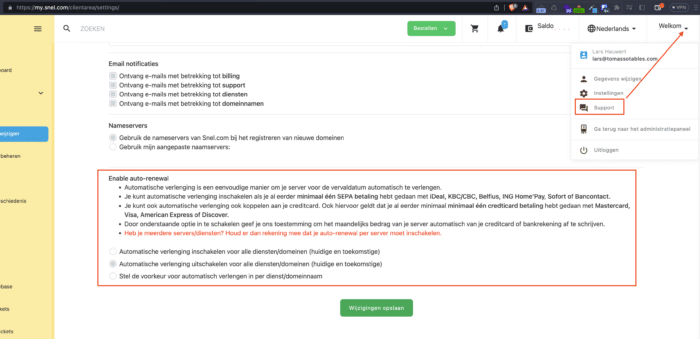 This ensures that any future services you add will automatically renew using your chosen payment method. So you never have to worry about missing a renewal date again.
Disable auto-renewal
If you want to disable auto-renewal & direct debit, then of course follow the same path and select the option "Disable auto-renewal for all services/domains"
Read this article if you want to know everything about automatic renewal, payment methods and collection attempts.