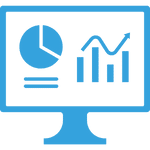 Why choose Proactive Server Monitoring?
Server Monitoring is a service that continuously monitors the performance of your servers and proactively detects and resolves issues before they cause downtime or disruptions. This ensures that your server always performs optimally. With Server Monitoring, you have the peace of mind knowing that you will be promptly notified of any irregularities.
Proactive Server Monitoring Unmanaged Cloud VPS
Proactive Server Monitoring Unmanaged Performance VPS
Proactive Server Monitoring Unmanaged Dedicated Server
Choose Proactive Server Monitoring
If you already have a server with Snel.com, Add Proactive Server Monitoring to it.
Proactive Server Monitoring Features

Better Security
---
Our continuous monitoring minimizes the risk of server downtime and ensures that minor issues are corrected before they escalate. This way, your server remains safe and protected.

Cost Savings
---
Thanks to early problem detection, you save hours of work and avoid high costs associated with identifying and resolving server issues. It's a smart investment in your business.

Reliability
---
Our advanced monitoring tools ensure quick and easy problem resolution, increasing the reliability of your server and allowing your business to function smoothly.
Graphical stats
---
Our tools closely monitor key server aspects such as CPU usage, memory usage, disk activity and usage, as well as website, SSL, and recommended updates.

Announcements
---
We keep you informed of any inconsistencies in CPU usage, memory usage, or disk usage. Both our team members and our clients receive timely alert notifications.

Notifications
---
Choose how you want to stay informed about any unusual events on the servers. Receive email notifications or SMS messages, so you always know what's happening with your server.
ISO/IEC 27001 Certified

We guarantee continuous improvement in security, availability, and quality.

Certified Green Host

We strive to continuously reduce our footprint with all of our processes.

Moving service

We will do the heavy lifting, and we are quick and thorough at it.
Swift answers

Guaranteed quick response times.
You can reach us 24/7/365.

100% Network uptime

We always like to give one hundred percent. So that's the uptime we offer.

Continuous improvement

We keep improving our processes to meet the highest standards.
FAQ Regarding Proactive Server Monitoring
How can we help?
Our customers praise us for the excellent service they receive. Would you like a taste? Get in touch with us, and we'll help you find the best solution for your hosting needs.