Introduction
Whether you run applications or websites backups can make the difference between a big disaster and a minor inconvenience. Every day a large amount of data is produced, Data loss is, therefore the biggest risks for companies that depend on their data. Nevertheless, data backup is often overlooked. We recommend you to use Acronis Backup Cloud, which is a safe, scalable and hybrid backup solution.
This article will help you set up scheduled backups through Acronis Backup Cloud Management Console.
Prerequisites
This article is not intended for use on servers with Plesk. if you have Plesk please use the following article:
How to set up Acronis Backup Cloud on Plesk
You will need to have the Acronis Backup Cloud Agent installed and the server added to your Acronis Backup Cloud Management Console. Related articles:
How to install Acronis Backup Cloud Agent on Debian
If you have a MySQL or MariaDB server installed we advise you to also create local backups of your MySQL or MariaDB server. Related article:
How to create and restore local MySQL or MariaDB backups
Log in to Acronis Backup Cloud Management Console
You can access the Acronis Backup Cloud Management Console at the following URL:
https://baas.acronis.com/
You can find your login details at my.snel.com: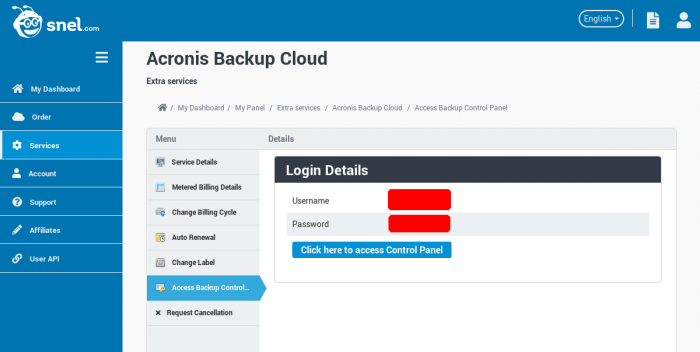 If this is the first time logging in you should accept the license agreement. You will be presented with the following screen: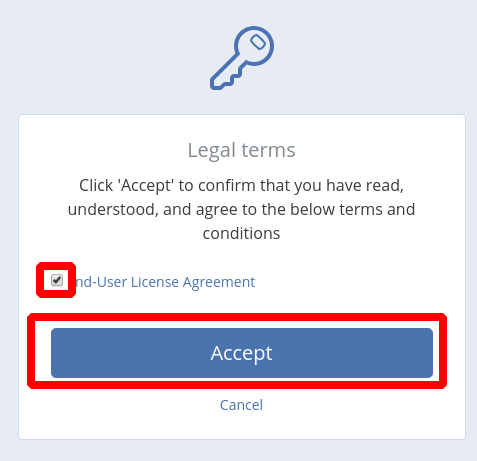 Mark the checkbox and click on "Accept".
Create Backup schedule
After logging in you will see a list of your servers. Click on the appropriate server and click on Backup: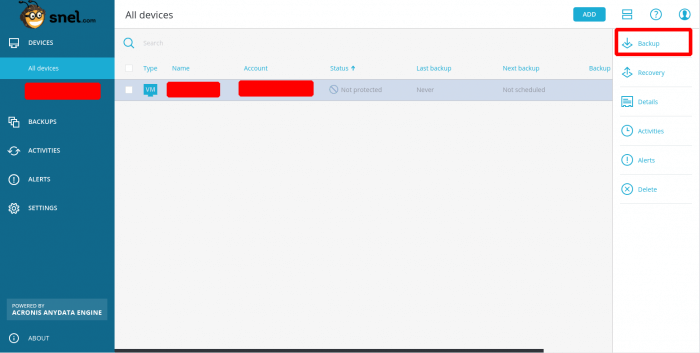 On the next screen, you will see the default options for a new backup task. We keep "What to back up" and "Where to back up" at the default values and change the "Schedule" by clicking on the row: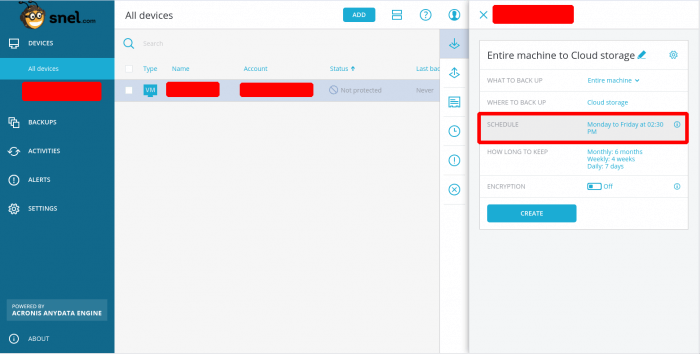 On the next screen we keep the default setting of "Weekly" and check all days and adjust the start time of the backup: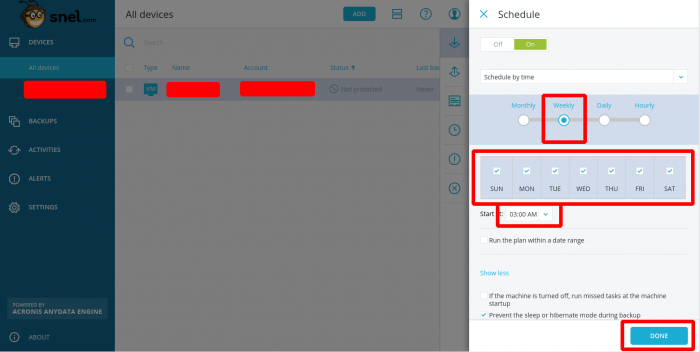 Next we click on the row "How long to keep":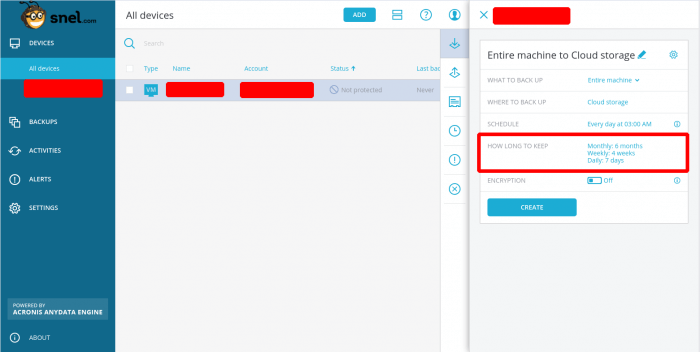 And adjust the values as necessary. We like to keep 7 daily, 4 weekly and 2 monthly backups: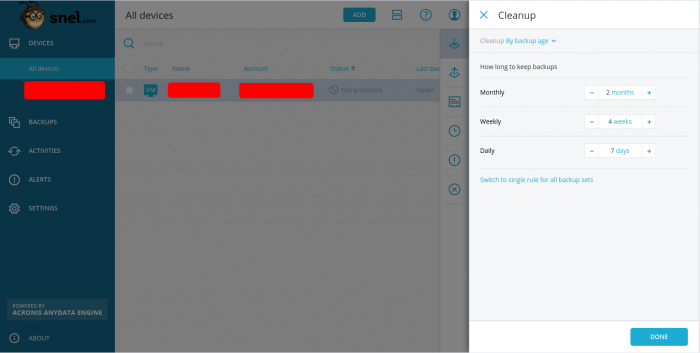 If necessary we enable encryption: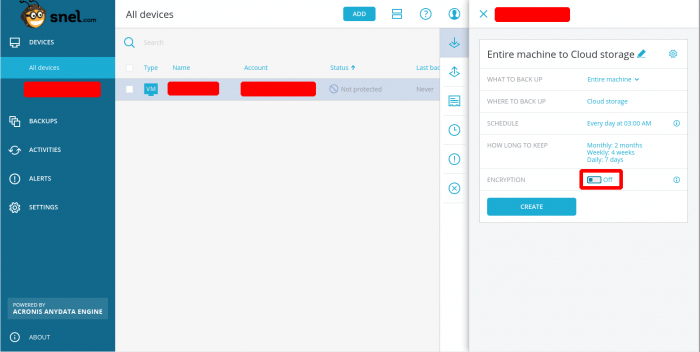 After enabling encryption you need to provide a password which is used for encrypting and decrypting the data: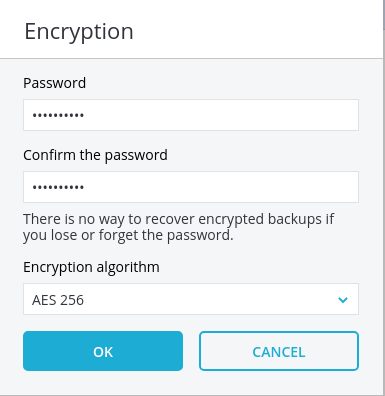 BEWARE: There is no way to recover encrypted backups if you lose or forget the password!
Next click on "Create" to create the backup schedule: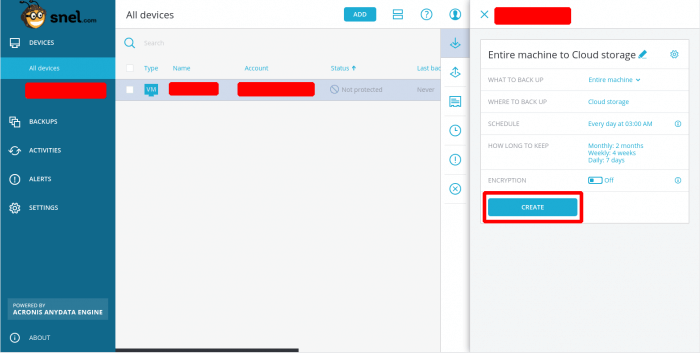 After the creation of the schedule, you could run the backup immediately or let the schedule run it automatically. Clik on "RUN NOW" to run the backup immediately: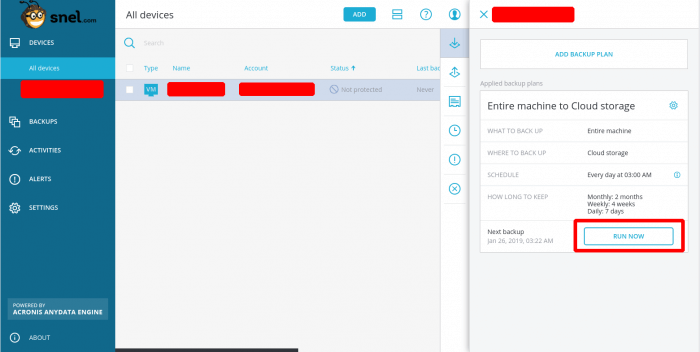 Conclusion
After following these instructions scheduled backups of your server will be created by Acronis Backup Cloud. The backups can be created as frequently as necessary and kept as long as necessary. If needed they will be stored encrypted.