Introduction
In this article we will be covering how to enable DKIM for a domain in Plesk. DKIM (which stands for DomainKeys Identified Mail) is a protocol that allows an orginization to take responsibility for transmitting a message by signing it in a way that mailbox providers can verify.
Step 1: Enable DKIM on your domain
Now you will need to go to Websites & Domains > your domain > the Mail tab > Mail Settings.

From there select the box that says Use DKIM spam protection system to sign outgoing email messages and click Apply.

If you are using Plesk DNS then you have enabled the DKIM on your domain. Plesk will add the two following records to the DNS zone of the domain:
default._domainkey.example.com contains the public part of the generated key
_ domainkey.example.com contains the DKIM policy, this policy can be edited.
If you are using an external DNS server, you will have to perform an extra step. Plesk cannot add DNS records to an external Server
Step 2: Enable DKIM for external DNS server
This step is for if you are using an external DNS server, Plesk cant add a DNS record to an external server, so you will have to copy the DNS records onto your DNS server.
There will be a hint that says How to configure external DNS. Click on it and copy the two DNS records you see onto your DNS server.
Make sure you click the checkbox and then apply, you will be given 2 DNS records to copy on your DNS server.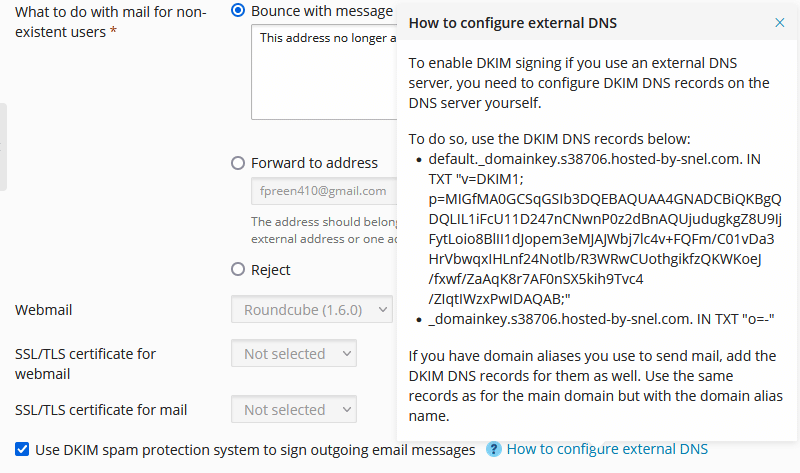 Conclusion
In this article we have enabled DKIM on Plesk and on external DNS servers.