Microsoft 365 Business Basic

Microsoft 365 Business Standard

Microsoft 365 Business Premium
Azure Information Protection
Microsoft 365: Anywhere, Anytime, Any Device
Who isn't familiar with the classic Office plan that includes programs such as Word, Excel, and PowerPoint? Microsoft 365 offers these productive applications through the cloud. Our Microsoft 365 plans allow you to access these applications safely from everywhere on any device. As a result, you will work more efficiently by yourself or together with your colleagues.
Create an Inspiring Digital Work
Environment with Microsoft 365
Our Microsoft 365 Business Plans are a collection of Microsoft services and are safely accessible through the cloud. This helps you to create a digital environment that is accessible from anywhere for yourself or your employees. Whether you need to have quick access to your files or finish your work on mobile while traveling - it is all possible with our Microsoft 365 Plans. You can get back to work instantly or pick up where you left off whenever you want. Microsoft 365 meets the needs of employers or employees who are looking for a complete solution to create an inspiring digital work environment.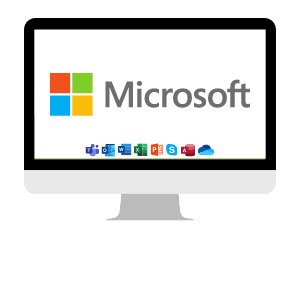 Work Remotely
---
Your Microsoft 365 Plan allows you to work together with your colleagues remotely as if you were side by side. Microsoft 365 offers you the possibility to communicate optimally. You are able to collaborate and share files with your colleagues no matter where you are. All communication is completely safe and GDPR compliant.

On- and offline
---
Our Microsoft Business plans allow you to access your work and applications both online and offline. We provide a desktop version as well as a web version of Office. All you need to do is to sign in to your Microsoft account with your existing email address.

Acces Anywhere
---
Microsoft 365 gives you access to your email, contacts, and calendar no matter where you are. It doesn't matter which device you use, whether this is a laptop or smartphone, your email will always be accessible. All of your information is accessible and up-to-date.

Realtime Collaboration
---
Microsoft 365 allows you to collaborate in real-time with your colleagues. You can work together on a document with several people at the same time. If your colleague changes something, it is immediately visible to the rest of the team. This helps to improve the productivity or your company

Flexible and Scalable
---
Standard solutions aren't always flexible enough. Our Microsoft 365 Plans are flexible and scalable. If you need to upgrade to a plan that covers more features you can always upgrade your plan whenever you want.

Data stored in NL & in the EU
---
Your data is safely stored in the Netherlands and Europe. You can rest assured that your data will never be offered or sold to third parties. Furthermore, the backup of your data is only stored in Europe.

Up-to-date
---
We make sure that you always have the most up-to-date productivity tools and applications from Microsoft 365. Whenever you make changes in programs such as Word, Powerpoint or Excel all information will be saved real-time so your information will always be up to date. rk biedt laag 5 HTTP/3-snelheden.

Online Meetings
---
Attending a meeting has never been this easy. Our Microsoft 365 plans allow you to easily connect to a meeting that is arranged via Skype or Microsoft teams. You can easily share files with your colleagues through the chats of these apps and work together efficiently.

Reliable Email
---
Your business email will be available in a trusted Outlook environment that is accessible both online and offline. You will have access to your email, contacts and calendar. Thus, you can answer your emails or organize meetings no matter where you are. You can rest assured that the information in your mailbox will always be up to date.
ISO/IEC 27001 Certified

We guarantee continuous improvement in security, availability, and quality.

Certified Green Host

We strive to continuously reduce our footprint with all of our processes.

Moving service

We will do the heavy lifting, and we are quick and thorough at it.
Swift answers

Guaranteed quick response times.
You can reach us 24/7/365.

100% Network uptime

We always like to give one hundred percent. So that's the uptime we offer.

Continuous improvement

We keep improving our processes to meet the highest standards.
FAQ Regarding Microsoft 365
Microsoft 365 is a subscription service that ensures you always have the latest version of the Office apps, plus access to additional services like cloud storage and collaboration tools. Office 2019 is a one-time purchase that provides you with classic, non-updating versions of the Office apps.
Yes, you can use the Office applications like Word, Excel, and PowerPoint offline. However, to access cloud-based services like OneDrive or to receive updates, an internet connection is required.
OneDrive is a cloud storage service from Microsoft. With a Microsoft 365 subscription, you get 1TB of OneDrive storage per user.
Microsoft 365 is compatible with most modern operating systems, including Windows, macOS, iOS, and Android.
How can we help?
Our customers praise us for the excellent service they receive. Would you like a taste? Get in touch with us, and we'll help you find the best solution for your hosting needs.