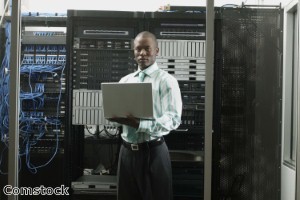 With the launch of Windows Server 2012 less than a month away, many IT professionals will by now be looking at what the new operating system will be able to offer their networks. It was recently noted by Martin Brinkmann of Beta News that one of the key improvements for many people will be the improved virtualisation capabilities afforded by the included Hyper-V 3.0 tools, but this is just one of a range of potential benefits organisations taking advantage of dedicated servers could see.
Jonathan Hassell of CIO.com highlighted several of those that could make a big difference to the way administrators run their networks. Among these is the ability of the new Server Manager interface to create server groups from collections of devices that already exist on a firm's network. It was noted: "Creating new server groups lets you manage tasks among each server with common attributes … and provide specific information on any of them as you wish." This will be especially useful to companies that do not have dedicated monitoring software in place.
He also pointed out a change in emphasis that has seen the philosophy shift from a GUI (graphical user interface) first mindset to a GUI optional setup that encourages command-line interactions. It was noted this is highly useful when setting up a server, as a professional can use a GUI for mundane configuration tasks, then switch this off when it is ready to deploy This offers numerous benefits, such as reducing resource load and energy consumption requirements.
Mr Hassell also said the introduction of hundreds of new PowerShell cmdlets into the latest version of Windows Server as another key plus point that will make the OS more user-friendly. He stated: "This will make your life easier, since PowerShell is essentially the preferred method of managing all of the workloads you can run on the operating system." The simplification of the Windows Server 2012 options into just two core options – Standard and Datacenter – will also be useful, as it cleans up what was previously a much less straightforward range of choices.