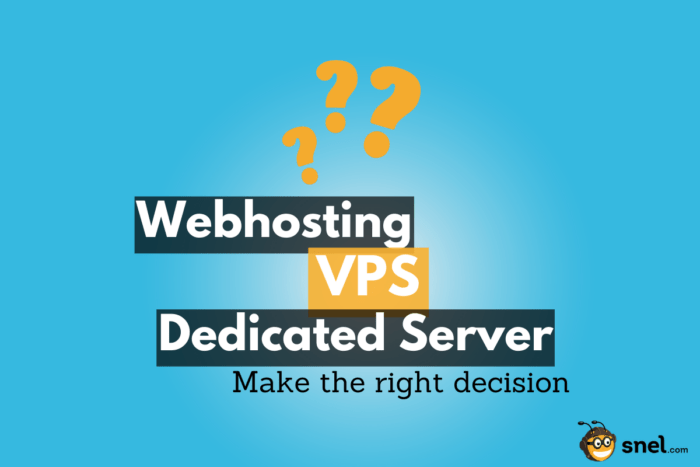 We are frequently asked, "Should I choose web hosting, a VPS, or a dedicated server?" To address them, we describe what these products are in this article. This allows you to make an informed decision on your own.

Web hosting package: Shared space, ideal for beginners!
What is a web hosting package?
A web hosting package operates in a shared hosting environment. Think of it as living in a dormitory where the dorm is the server. Everyone has their private space, but certain resources like water, electricity, and shared areas are communal.
Advantages:
Affordability: An obvious pick for newcomers and smaller websites operating on a tight budget.
Ease of Use: Typically, there's no need to fret over technical details; the hosting company handles the majority of the server maintenance.
Disadvantages:
Shared Resources: Much like sharing amenities in a dormitory, you're sharing server resources with other sites.
Limited Flexibility: There are restrictions to the customizations and software you can run.
When should you opt for a web hosting package?
A web hosting package is a prime choice when you're just starting out and lack deep technical expertise. It's tailored for smaller websites, blogs, or nascent businesses not in need of intricate functionalities. With web hosting, you generally have fewer technical aspects to ponder, since many details are managed for you. Moreover, the costs are often more economical compared to other options. As you scale, there might be a surge in resource demands, making a transition to a VPS or dedicated server logical. Until then, a web hosting package offers a straightforward, cost-effective avenue to maintain an online presence without the need for profound technical understanding.
VPS (Virtual Private Server): Your own place in the cloud
What is a VPS?
VPS stands for Virtual Private Server. Think of it as an individual apartment (VPS) within an apartment complex (Dedicated Server) shared with other residents. You have your separate apartment (VPS), meaning you can do as you please within it without disturbing your neighbors. These individual apartments (VPSs within the server) are established by placing walls and a distinct entrance around them (virtualization software). Hence, one full server functions as multiple individual servers (apartments), each capable of independently running their applications, licenses, and operating systems.
Advantages:
Guaranteed Resources: You have a designated set of resources reserved solely for you.
Flexible Scaling: Resources can be expanded or reduced remotely within 10 minutes with ease.
Disadvantages:
Cost: Pricier than a typical web hosting package.
Technical Expertise: A grasp of some server management technicalities is required.
When should you consider a VPS?
Opting for a VPS is a good choice when you wish to start small without making hefty investments. A VPS provides greater flexibility than a dedicated server when it comes to upgrading or downgrading between packages. Start with a smaller VPS, and as you expand, you can seamlessly scale up to more substantial packages without experiencing downtime. While the resources are entirely at your disposal promising high performance, it may not be as pronounced as the capabilities of a dedicated server.
Dedicated Server: Your Personal Private Server
What is a Dedicated Server?
Imagine a Dedicated Server as your own standalone house. You have all the space and resources for yourself, with no neighbors around. It's pricier than a VPS, reflecting its greater resources and enhanced server capacity.
Advantages:
Peak Performance: With all resources exclusively yours, you get unparalleled speed and function.
Full Control: You're at liberty to customize everything, from the software you install to the hardware configurations.
Disadvantages:
Price: The most expensive option among the three.
Less Fluid Scalability: Should resources like CPU and RAM need augmentation, it requires a physical intervention at the data center.
When should you opt for a dedicated server?
A dedicated server stands out when hosting intricate applications or high-traffic websites. It's an apt hosting solution for software programs boasting large databases demanding top-tier performance, ample storage, and considerable memory. Dedicated servers cater better to such requirements, as other hosting solutions might falter under the weight of intensive applications. As noted, while a dedicated server carries a steeper price tag, the expansive capacity you get in return ensures your applications run seamlessly. Additionally, with this hosting solution, you retain the flexibility to downgrade or upgrade as your hosting needs evolve.
Uncertain about choosing between Web Hosting, VPS, or a Dedicated Server? We're here to assist!
Still unsure about which hosting solution best fits your needs? Drop us a message, and we'll advise on the most suitable hosting option tailored for your application.
*Also read this article in which we explain the difference between Managed and Self-managed hosting
*And this article in which we explain the difference between Cloud VPS and Pure Performance VPS