How many virtual servers can I host on a dedicated server and which dedicated server do I need? These are the most frequently asked questions from customers when they want to purchase a dedicated server to run VMs.
The amount of VMs is hard to answer because it totally depends on your applications. Things that determine the amount is whether you have medium or heavy resource requirements.
Depending on your applications, you may be able to fit as many as 100 virtual machines on a single dedicated server, web file and print servers are perfect examples of light applications. If you run resource hungry applications such as mail servers and data base servers, you can often run as few as two.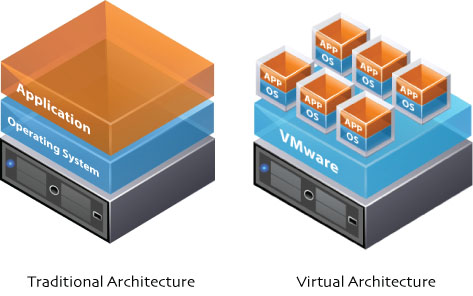 Virtualization is very resource-intensive
In general it is true to say that virtualization is very resource-intensive. Hence, choosing enough RAM and the right CPU matters the most with server virtualization. When you run a VM on low RAM you may not get the performance you need and your machine can become very slow. That's why we often recommend at least Hexa Core servers or even higher servers for virtualization.
Another thing that you should consider is your disk's read/write performance. Since VMs have a very fast read/write capability it is recommended to get a RAID card. This will keep your data safe when one of your disks are broken.
We offer the following operating systems for server virtualization:
- Proxmox VE 3
- VMware ESXi 5.5
- XenServer 6.2.0
They are all available with instant setup at no additional costs. Take a look at our server's page for more detailed information.