Switching to IPv6 addresses remains a trending topic in the hosting industry. How many times have you heard or read about this in the past year? After all, IPv6 ensures that the growth of the internet in the future is guaranteed. Therefore it is surprising that only a small part of the companies or website owners have switched to the IPv6 protocol. While the benefits of IPv6 were praised and emphasized by several analysts last year, this message is still not getting through to many companies.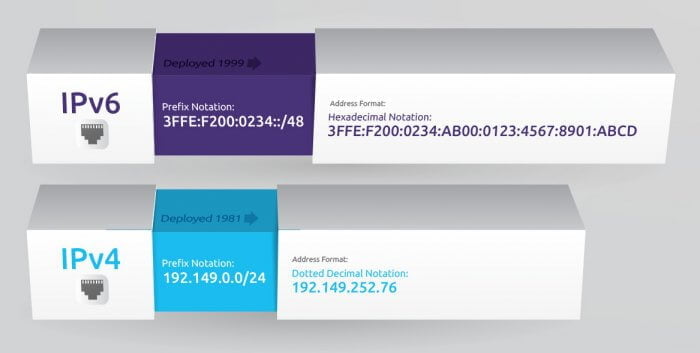 IPv6 Apathy
The fact that companies have an apathy for IPv6 is confirmed by a survey recently conducted by the English news site Tech week Europe. This recent survey showed that 43% of the respondents have no plans to switch to the IPv6 protocol in the short term. 17% of the respondents did not even know what IPv6 was and 11% of the respondents never wanted to switch to this protocol. Since IPv4 addresses will run out very quickly, the results of this survey are very worrying. Currently, most devices still support both IPv4 and IPv6, but this will no longer be taken into account in future technological developments. As a result, many devices with an IPv4 connection will not function properly.
Switching to IPv6 is highly recommended, don't be left behind!
The importance on switching to an IPv6 connection cannot be emphasized enough. Certainly if you want to remain competitive, it is important to look for solutions today, and not to lag behind this development. If you are not prepared in time, you may be forced to upgrade to this protocol unplanned. That is why it is important that you already start researching how and in what way you can successfully migrate to IPv6.
Like all other ISP providers, we also encourage the use of this protocol. Our dedicated servers are supplied with IPv6 addresses as standard and free of charge. The native IPv6 addresses are fully supported by our infrastructure and are also available immediately after server activation.
Still not convinced? Click here to read another post about the benefits of IPv6.
It is of course possible that switching to IPv6 requires more than you have available in time or knowledge, with our Managed servers you don't have to worry about this and these kinds of updates are performed by our technicians. Enter your details on the right in the form on this page and we will contact you shortly.