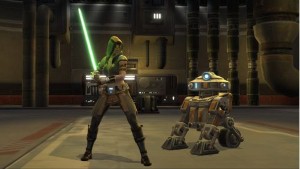 For game developers running massively multiplayer online (MMO) titles through their servers, the standard revenue stream for many years has been the subscription model, where players pay a monthly fee for access to the service.
But the era of this model could be set to end due to declining subscriber numbers and the emergence of new payment options, which has led several firms to re-think their strategy. Last week, EA confirmed it will introduce a free-to-play option for its Star Wars: The Old Republic title after its latest financial results revealed the number of paid subscribers fell to under one million.
Even the most popular title, Blizzard's World of Warcraft, has not been immune, as the developer recently revealed its subscriber base is at its lowest level since 2007, dropping from 12 million in 2010 to nine million this year. Therefore, many companies may look to alternative revenue streams in order to encourage more players. This week, it was suggested by Chris Lye, global brand manager at Guild Wars developer ArenaNet, that this will become essential for any firm that wants to turn a profit.
He said: "I do feel that any developer who wants to be successful in today's market needs to take a really hard look and say 'Do we really want to use a subscription, is that the best thing for this game?'"
Mr Lye observed there is a growing awareness in the MMO sector that the days of using a 'launch-and-leave' model are declining as developers seek to find ways to foster longer-term relations with their customers. "A lot of players are telling us 'we don't want to be locked into a subscription, we want an a la carte model of what we spend our money on'," he said.
Therefore, freemium and microtransaction solutions are likely to become the business model of choice for many game developers in the coming years. Mr Lye said while not every player will make payments using these systems, that should not be an issue for companies, as these solutions still add value to games, provided companies ensure they continue supporting the title and offer ongoing updates for both free and premium players. Snelserver.com has dedicated servers with no contracts.