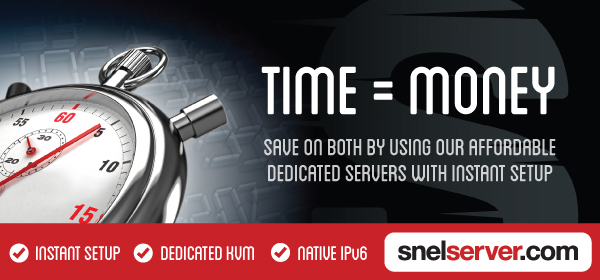 Simple, fast and reliable hosting in a matter of minutes! 
The Dedicated servers with Instant Setup offered by Snel.com provide high performance hosting solutions within a few minutes. Due to the fact that our Dedicated servers come with Instant Setup there is no need to wait hours or even days to host your IT environment. Our starting point is to provide simple, fast and reliable Dedicated Servers to meet your business requirements perfectly.
Our affordable Dedicated servers not only enable you to save time and money but it also provides freedom to manage your server independently. To provide more flexibility and convenience we offer a Free Dedicated KVM which allows you to control your server remotely at bios level 24/7. SnelServer requires no contracts because we are confident that you will enjoy our flexible, fast and high performance servers which are completely dedicated to your needs.
Our Dedicated servers have the following unique features:
Instant Setup
Dedicated KVM
Bandwith Pooling
99,9% uptime
Native IPv6
No contracts