Why is backup so important?
Data is valuable and crucial for most companies. The loss of data can cause inconveniences and sometimes it can even be disastrous. Nevertheless, data backup is often overlooked by many companies. It is important to backup your data because it enables the restoration of data when something crucial has happened. Moreover, it also allows you to restore data at a later point in time which can be very handy. Snel Cloud Backup allows you to easily restore your data in no time without affecting your server's performance.
Snel Cloud Backup
Snel Cloud Backup has advanced and innovative security features to protect your data safely. It has fast, bandwidth-efficient backups as deduplication is client-side, saving storage space. Moreover Snel Cloud Backup offers you flexibility because after your first backup you do not have to re-upload a full file again. Our backup solution is fast, you can restore your oldest and newest backup with the same speed. Furthermore, Snel Cloud Backup is built with SSL support and the panel is available in 12 languages. This gives you the option to manage your backup in the desired language.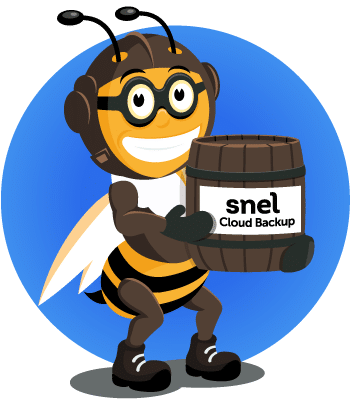 Snel Cloud Backup features

Disaster Recovery
---
With Disaster Recovery, you can protect your data or even prevent data loss as you can plan failover to mitigate disaster recovery scenarios for virtual machines (VMs).

Instant Restore
---
The instant restore functionality of Snel Cloud Backup allows you to reduce your outage recovery time by starting your server directly from the backup storage without moving any data. 

Data Deduplication
---
We are using client-side deduplication, this ensures that the data is broken into compressed, encrypted chunks. As a result, this will lead to bandwidth and storage space efficiency. Our backups are incremental, after your first backup, you do not have to re-upload your full file again.

Fast Backups
---
Our backup solution is fast and reliable. You can easily recover your entire server or just recover selected files and folders without any hassle. 

Datacenter Security
---
Your data is backed up in Amsterdam. You can rest assured that all of our data centers have major security certifications and they are compliant will all data sovereignty regulations.

Disc Image Protection
---
Our backup solution offers protection to your entire disks and partitions on Windows for full system recovery. You can restore and backup your server to physical, VM, or the cloud.

Strong Encryption
---
Your data and metadata are protected with AES-256 encryption by default. Your backups are also protected by irreversibly encrypted passwords.

Granual Recovery
---
Granual recovery allows you to restore specific files, tables, or emails and restore the lost data itself without having to recover full databases or systems.

Central Management 
---
With our web-based centralized management console, you can reduce your workload. You can access your web console from any browser or any device, including tablets.

Support in 12 Languages
---
Snel Cloud Backup is built with SSL support and the panel is available in 12 languages. This provides more convenience as it allows you to manage your backups in the preferred language.

Microsoft SQL Server
---
With our native Microsoft SQL Server backup, you can back up all the databases or exclude databases.
It also includes different backup strategies, full, incremental differential, or log-based backups.

MySQL and MongoDB protection
---
With Snel Cloud Backup you can protect your MySQL and MongoDB databases without needing any additional spool space. With native support, you can protect and easily restore your database from the backup console.

Microsoft 365 Apps
---
Snel Cloud Backup allows you to protect your Microsoft 365 Applications such as Outlook, OneDrive for Business, SharePoint, and Teams files with domain or user-level backups to a storage destination that you can choose.
Microsoft Hyper-V
---
Protect all your VMs running on Hyper-V with Snel Cloud Backup. The protection is not limited to the VM, it also includes protection for attached virtual drives, the contents of memory, configuration files, and saved checkpoints.

Microsoft Exchange Server
---
Snel Cloud Backup protects your Microsoft Exchange Server against possible security threats and it also protects your Exchange server against retention policy gaps. You can quickly restore your data with easy recovery tools. 
Order your Server with Snel Cloud Backup
The first 50 GB backup space is € 10.00 a month.
Every extra 1 GB backup space is + € 0.20 a month.