As a company, it is extremely useful to work centrally from one stable server or cloud with its own network. Having such a tailor-made network is practical, clear and professional. Do the server check and find the ideal IT infrastructure. In this way you do not have to invest in expensive equipment, but you do benefit from all the conveniences and security that that hardware would bring. In this way, for example, you run your own applications, and the servers are always in top condition. In short: a modern and indispensable part of your organization.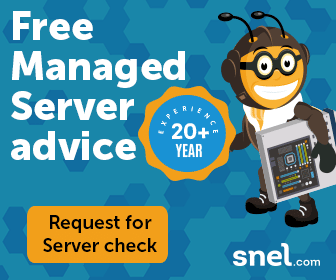 Requirements for the ideal IT infrastructure
But operating your own server and network comes with a lot of snags. As a company you are also obliged to meet certain safety requirements. That set of requirements is quite substantial. Great of course, because this enforces a certain minimum of safety and guarantees a level of operational reliability. What if you experience downtime on your server and customers can no longer reach you? Or suddenly there appears to be an unsafe back door, through which hackers have access to your data and the data of your customers or staff? The fines of the Dutch Data Protection Authority are not mild and the trust in your organization can be flushed through the privacy pit in no time, with permanent damage. In addition, the ethical aspect also plays a role, because you have to take your responsibility as a company, also in the digital field. No, especially digitally.
Server check
Fortunately, it is easy to put digital affairs in order quickly and effectively. With Snel.com's free and non-binding server check, your server is professionally vetted and tested. Our professionals have absolute knowledge and modern and fast equipment, and you notice that. During the server check we take a look with you for free, and where necessary we advise on how to tackle certain pain points and how you should optimize your server. Free, and of course: Fast.
So make sure you have your online services in order. Request a free server check via the form on the right!