When 'fast' (Snel in Dutch) is in your name, you have to deliver as a company. Snel.com's Pure Performance VPS is just that: fast. The server service provider makes no concessions in terms of performance, including by using higher clocked CPUs and local NVMe storage. In addition, as a customer you have the advantages of a managed service, so that you have an optimized environment and in case of any problems you always receive the right support  - here we are again - fast.
Where many hosting providers opt for unmanaged solutions, Snel.com stands out by offering a managed virtual private server (vps), with plenty of room for customization for customers. And as befits the name, of course with speed. "If you opt for a Linux machine, it will be delivered within ten minutes," says owner Yavuz Aydin. "With Windows it takes a bit longer, due to installation and provisioning, but that too is ready within half an hour to an hour." Over twenty years ago, Yavuz started his first web hosting company, initially from his living room. Together with Musti Aslan, he then focused on Snelserver.com. "We were one of the first companies, at least in the Netherlands, where you could order instant dedicated servers with which you could go online directly."
Two years ago, Yavuz and Musti's company made the choice to opt for managed servers, as one of the few hosting providers in the Netherlands that was (and still is) independent of a major investor or a larger hosting- or IT party. Musti: "We saw that fewer and fewer providers were willing to offer managed services. As a relatively small party, this was an opportunity for us to distinguish ourselves." The intention is to remain independent. Yavuz: "The advantage of this is that we can offer more flexibility and tailor-made solutions. You can purchase our service unmanaged, whereby we facilitate the infrastructure around the server and you can purchase additional support on an on-demand basis. You can then just do your own thing. But you can also purchase a managed server where we provide operational support, including diagnostics."
Pure Performance VPS
Snel.com launched its (managed) Pure Performance VPS in June. The choices made by the provider are aimed at maximum performance. Yavuz explains: "Traditionally, a VPS is built with focus on maximum redundancy, scalability and performance - in that specific order. For example, if you are looking at storage and you want maximum redundancy on it, you could opt for Ceph with distributed storage. We turn that around and opt for local NVMe storage. We don't mind giving up on redundancy if we gain speed with it. Not that the other things aren't important, but as Snel.com, what matters most with our Pure Performance packages is indeed performance. Self-conducted benchmark tests also show this. Compared to competing vps services in the Netherlands, Snel.com scores better when it comes to things like CPU performance and disk speed."
Pure Performance VPS is offered by Snel.com in addition to the company's already existing products (Cloud VPS and dedicated servers). The technical differences include higher clocked CPUs for better computing performance (minimum 3.5GHz vs. minimum 2.2GHz) and the use of local NVMe disks (in ZFS mirror vdev, similar to RAID 10) for lower disk seek times and a higher disk IO. Minor adjustments have also been made to the settings of virtualization software, especially with regard to the CPU type, to achieve maximum performance.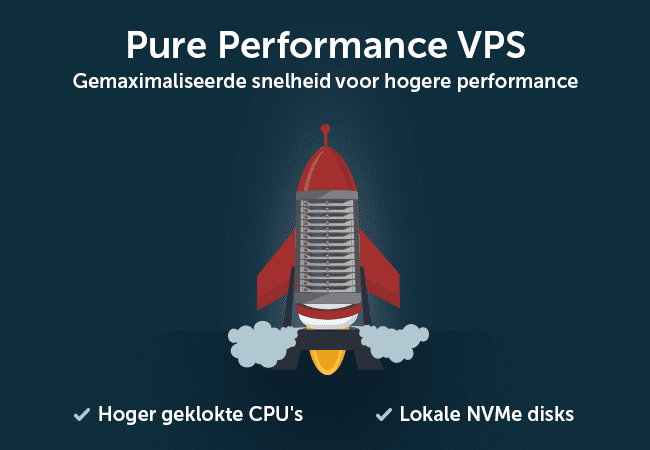 Choice between Ceph and NVMe
Is the standard Cloud VPS platform not fast enough? "Well, even though we use modern hardware such as SSD-only storage, 2x10G fiber uplinks and 2x10G fiber for storage on our Cloud VPS platform, speed is not the absolute priority here," said Yavuz. "We use Ceph, a distributed storage model in which we have opted for a replication setting of 3. In fact, each piece of data is written to three disks. That's great for maximizing the redundancy of the platform, but you do sacrifice performance. Besides writing to three disks, this is also because Ceph has higher access times than local disks, because everything goes through the network. In short, every choice has an effect on every other choice. For Cloud VPS, we find maximum redundancy more important than maximum performance, and for Performance VPS it is the other way around."
"With our knowledge we can fine-tune the configurations very specifically according to the customer's needs."
Customers who need help receive it from a bilingual helpdesk (English and Dutch) with whom they can e-mail and call. "As a rule, you will be helped immediately. If necessary, we escalate further, including outside office hours, to resolve issues as quickly as possible," says Musti. "To give an example, recently we happened to have a customer whose websites had been hacked, and they couldn't figure it out on their own. Technically they had the knowledge to manage the web server, but this was a situation that showed how pleasant a managed service can be. Together we came up with a solution and the problem was solved. All that happened over the weekend! Also, it sometimes happens that we help users of our managed services with fine-tuning a web server configuration or setting up an application server. Think of PHP, Apache or Nginx. With our knowledge, we can fine-tune the configurations very specifically according to the customer's needs."
Automation plus customization
Customers mainly experience that they can arrange everything very quickly through self-service. "Our customer specifies how big a drive should be and how much memory, how many CPUs, which addresses, which OSs and which software licenses are needed. We then deliver almost everything automatically, and as a customer from there, you can go in all directions in terms of customization." What is Pure Performance used for? Yavuz: "That is very diverse, from parties that want to host their own software to users of Apache servers, Nginx, PHP or Ruby. But it can also be a CI/CD deployment, or a server for Elastic Search. It's very wide. We support a lot in the application layer, for example MySQL, MariaDB and PostgreSQL. We do not manage databases, but we can set them up and deliver them. We also simply arrange the configurations of web, mail and application servers for our customers."
"Our target group doesn't always realize that a managed vps service doesn't have to be expensive"
A misconception is that a managed vps is more expensive than an unmanaged service. Musti: "I think that our target group does not always realize that it doesn't have to be that expensive at all (see the link to the price list, below this article, ed.). Many people also see 'managed' as a service that you rarely ever use. That's not how we view it. when a server is managed by us, we install our monitoring software on it and we also arrange things such as back-ups. Furthermore we keep the operating system and hypervisor up-to-date by performing the available updates at least weekly. These are precautions that you need to prevent yourself from falling behind when things go haywire." Yavuz adds: "With a managed vps, your server is always in optimal condition. Security is a hot item, especially at the moment. We often come across environments where our customer employs a technician who thinks that with knowledge of Windows Server, he will have everything in order with his Linux vps. Then it turns out more often than not, it is not arranged properly."
"Our flexibility is appreciated. Just look up our online reviews"
Hardening and own ISO-installation
Snel.com provides server monitoring in every managed package, including its availability and the service. The service supports various control panels and as a customer you don't have to worry about hypervisor management (including Proxmox, KVM and VMware). Yavuz: "Around Linux, we also harden the server in terms of ssh configurations, and we manage the firewall for our customers." In its own words, the Rotterdam based company distinguishes itself most with their good service, thinking along with the customer and actively proposing solutions. Musti: "Just to give you an example of something that you don't find with many other parties, but that we do offer: realizing an installation with its own ISO. This kind of flexibility is appreciated. Just look up the online reviews about us. They are almost always positive."
Want to learn more? Here you will find all Pure Perfomance VPS-packages of Snel.com.
a translation from Source: Tweakers