A few months ago Parallels Plesk Panel introduced great new security features to Plesk 12. Boasting such features as WordPress tool kits, a mobile manager, anti-spam and anti-virus capabilities, this platform is a great choice for any web administrator. Still, Fail2Ban is another benefit that can prove to be a useful addition to the core security features of Parallel Plesk 12. Fail2Ban offers additional
• Better and updated firewall protection
• Monitoring and banning of supposed malicious IP addresses
• Public and private authentication systems
• Controlling FTP and SSH connections
Installing this license is highly recommended for anyone who wishes to enjoy an extra level of protection. So, let's take a look at the installation process to provide you with the clarity and insight needed to enjoy all that this license has to offer.
Step-By-Step Instructions
First, you will need to access your Plesk account with your details. Then you need to select Tools & Settings and highlight IP Address Banning.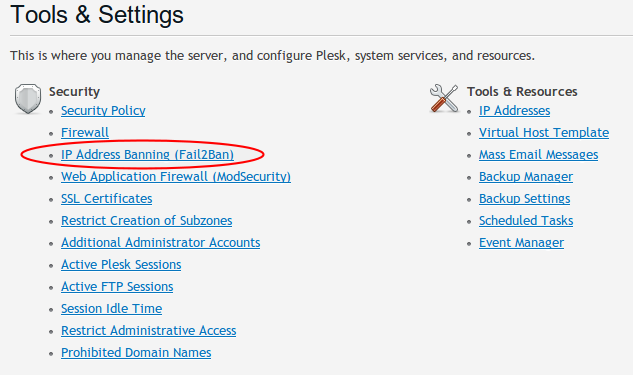 Note that if you have a static IP for your location, this should be added to the Trusted IP Addresses. To do so click on the Trusted IP addresses tab and click on Add Trusted IP.

You will then have the ability to monitor particular services. You can choose which ones you wish to enable or disable. Once this is completed, click again on the Settings tab.
You will note an icon which reads "Enable Intrusion Detection". Check this box. You will notice a few interesting features below which include:
• The length of time an IP will be blocked from your system.
• How many warnings are required to trigger a blockage.
Of course, you are always able to adjust these based upon your user preferences. Once the choices are made, simply click on OK. Fail2Ban is now activated on your server.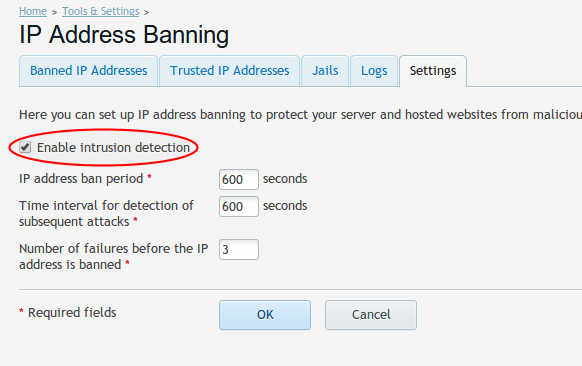 Once this is done, you will be able to see any IP addresses that are currently banned. The main interface will also display what action had caused the ban.
Modern Security for Changing Threats
Why are so many users choosing this integrated security feature? The main reason is the fact that malicious attacks from IP addresses can protect your servers against known or new vulnerabilities. Spam protection will prevent your servers from being blacklisted while your site itself will experience better performance.
Thankfully, installing Fail2Ban on Parallels Plesk 12 is quick and easy. Due to a user-friendly interface and your ability to adjust factors such as which filters to switch on and off and which to remove entirely, you can configure this control panel to suit your unique needs.