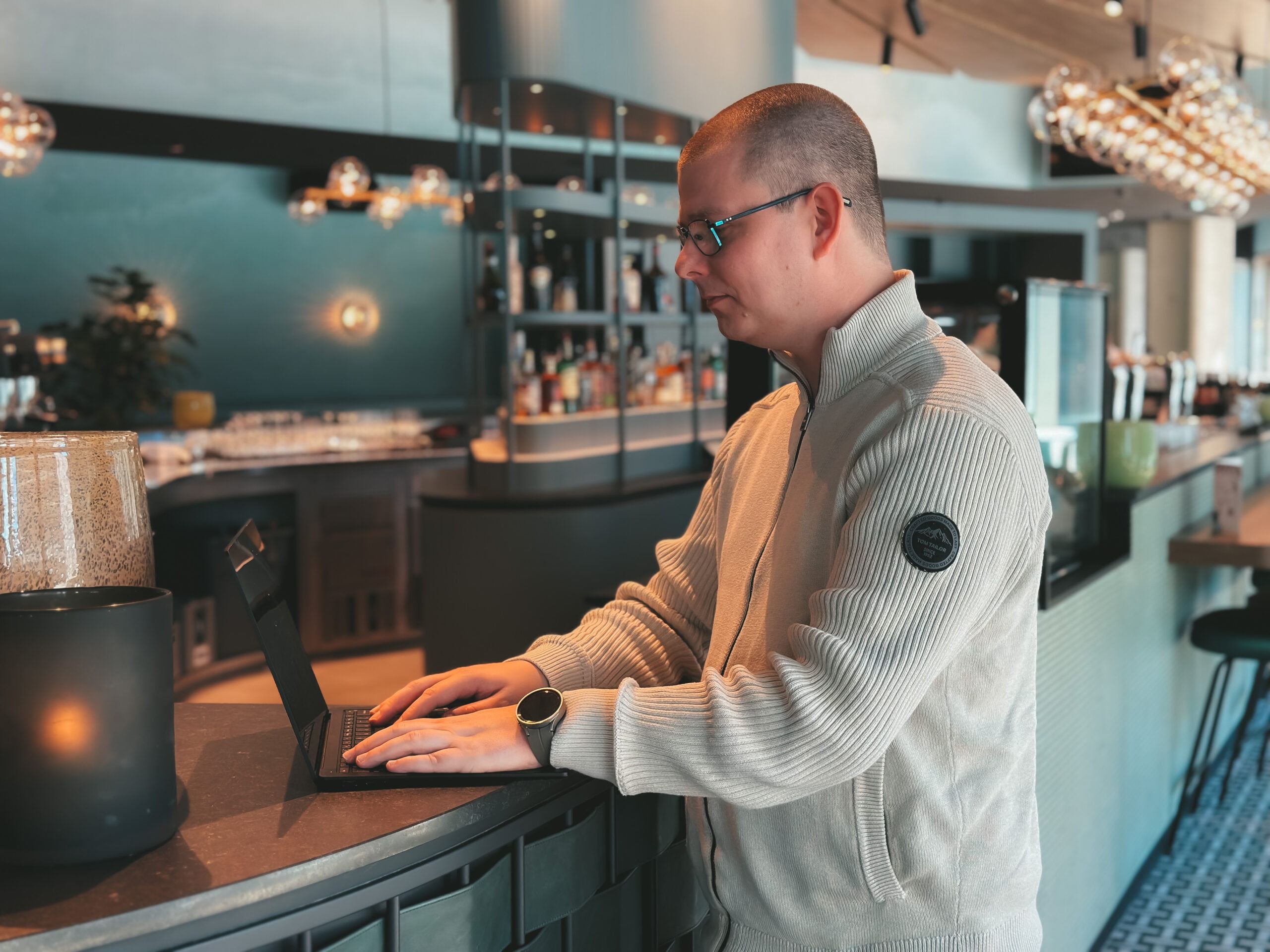 Henk Pieter Veenhuijsen is director of  VEPA Automatisering together with partner Huib Pasman. VEPA is a one-stop-shop for IT supplies and services, established in 2016, providing customers with connectivity, digital security, computing supplies and cloud solutions. In addition, VEPA Automatisering is a Snel.com reseller when it comes to domain names, hosting & server needs.
Since the age of 17, Henk Pieter has been involved in the IT business. Starting with a part-time job at a computer shop in The Hague, he gradually gained knowledge about IT products, attended courses, and learned programming, eventually leading to a full-time position. Henk Pieter and his partner Huib have known each other since childhood, and with their backgrounds in IT and technology, they possess all the necessary qualities to serve their clients.
After a long career in computer supplies, Henk Pieter decided to delve deeper into the field. He pursued various training programs, such as MCSE & Comptia, and obtained certifications for Microsoft 365 and Microsoft Azure.
Due to the increasing demand for IT services from small and medium-sized businesses (SMBs), Henk decided to form a partnership with Huib, resulting in the establishment of VEPA Automatisering in 2016.
"Our clients are SMBs who often don't have an IT professional on their team but wish to outsource everything and be fully taken care of. With VEPA Automatisering, we handle all their IT needs, allowing the clients to work seamlessly online from anywhere in the world," stated Henk Pieter.
Customers can rely on VEPA Automatisering for computer supplies, workplace setup, cloud solutions, connectivity services such as fiber internet and mobile subscriptions, online security including firewalls and antivirus solutions, domain names, and hosting. Additionally, VEPA offers workshops for clients who wish to have some level of IT control but want to apply it correctly.
Every day for Henk Pieter is different. One day, he might be working with a client to implement Office 365 security, install firewalls, and ensure the safety of all their data. On another day, he could be setting up the entire connectivity infrastructure for a company, including internet connections, mobile internet, and on-the-go internet access for, for example, technicians who need to use tablets while on the field.
"When we visit clients, we always ask them: what do you want to achieve? What do you want to get rid of? And what do you value in a partnership? Based on that, we write an IT plan and implement it accordingly. We always prioritize data security, storage, and the ability to work online from anywhere, at any time," explained Henk Pieter.
VEPA is ideally focused on resolving critical issues and challenges for clients throughout the day, particularly those that previous providers were unable to solve. "I never shy away from those challenges," emphasized Henk Pieter.
VEPA always strives to select the best products and is not limited to a specific brand. With this mindset, VEPA maintains a wealth of product knowledge. They stay up to date with new gadgets and developments in IT capabilities that can be 'groundbreaking' for a company. VEPA Automatisering ensures that they are well-informed about such advancements.
Henk Pieter came into contact with Snel.com through director Musti, whom he knew from previous collaborations. Henk Pieter noticed a decline in service and quality from their previous supplier and was open to exploring alternatives. After a single phone call with Musti and the Snel.com team, they immediately connected, and VEPA Automatisering made the switch to Snel.com.
"The transition from our previous supplier to Snel.com was seamless and very fast. Snel.com took care of everything for us, even though we have a lot of expertise in the field ourselves. We truly felt supported and relieved of any burden. They provided me with the same level of service that we offer to our own clients, so for me, the collaboration has been successful. We are aligned in our approach," stated Henk Pieter.
At Snel.com, VEPA Automatisering subscribes to a Managed Virtual Private Server (Managed VPS). They pay a monthly fee and benefit from flexibility in upgrading or downgrading the resources. They only pay for what they need and actually use. Henk Pieter chose to opt for an Managed VPS because it shifts the maintenance responsibilities to the provider, minimizing complications and allowing VEPA to be fully relieved of those tasks. According to Henk Pieter, this approach differs from a Self-managed Virtual Private Server, where the customer would have to handle the concerns and responsibilities themselves.
VEPA's customers frequently acquire domain names and purchase hosting packages, all of which are done through VEPA as a reseller with Snel.com. This enables VEPA to provide domain name registration and hosting services to their clients seamlessly through their partnership with Snel.com.
"The proactive approach of Snel.com is the reason why I will definitely remain a customer! Whenever I send an email or make a call, they act promptly. I often request quotes for my own clients, and I don't have to wait long for a response. This is truly refreshing in this business. It allows me to act and communicate quickly with my clients, which directly translates into business opportunities for me," expressed Henk Pieter.