Sometimes you may not be able to reach your server the usual way (with SSH). That's where KVM comes in handy. When you have locked yourself, KVM over IP is a second door to enter your server safely.
We offer a dedicated KVM to each dedicated server. Your KVM allows you to control your server at BIOS level.
You can use your IPMI to:
Monitor your server health
 Access your server when the network is down
Install a new OS
Power on / off system
Retrieve hardware logs etc
Read sensors data such as your CPU temperature, fan speed, and voltage
Serial over LAN etc
We will explain the commonly used functionalities below.
In order to use your KVM you need to log into your SnelPanel account. Once you are logged in you need to visit the KVM page through your dashboard.
Now you need to enter your username and password. You can find these details on your the KVM page.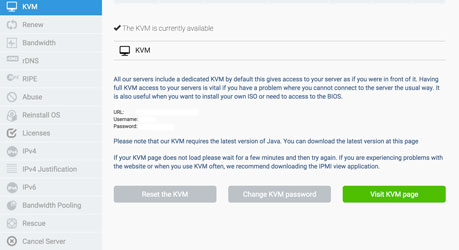 Using Console redirection
The remote console enables you to manage the remote system by using the KVM (keyboard, video and mouse) over IP. To launch the KVM (Console), you need to:
1. Select Console Redirection

2. And then click to Launch Console

Using Power Control
One of the most frequent used functionality of your KVM is the Power control feature. This feature is useful when you need to control power and shut down your server. In order to perform power on, power off or power cycle your server you need to click to the button in the red box.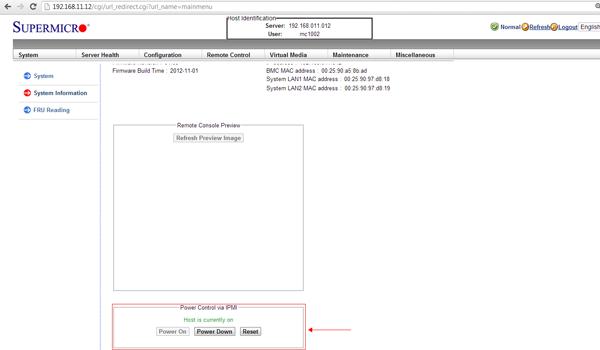 You can also perform this action in another way. You can click to Remote Control > Power Control. Now you are able to see more Power actions.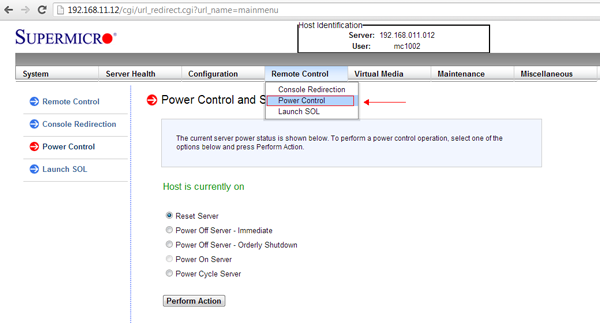 How to mount your ISO
In this section you can mount your CD-ROM image for OS self-installation.
Follow these steps below:
Navigate to 'Remote Control', click 'Console Redirection' and launch the Console
Accept the various java security prompts
Click 'Virtual Media' (inside the java console! and mount your ISO as 'CD/DVD'
In order to attach an ISO file to virtual media you need to:
1. Enter Share host for example: 192.168.11.1
2. Enter the path to image: foldernamefilename.iso for example isowin2012.iso
3. Enter your username (you can find this in SnelPanel)
4. Enter your password (you can find this in SnelPanel)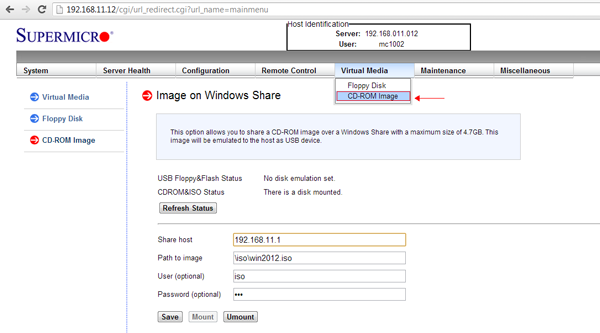 Once you are ready click to " Mount" to attach an ISO image. You will see a pop-up. Click "OK" to confirm message.

If the mount is succesful your CDROM&ISO Status will change the status to "There is a disk mounted"