Kortingen
We bieden 3 soorten kortingen aan bij Snel.com:
Saleskorting
Factureringscycluskorting
Resellerkorting
Saleskorting
De saleskorting is een productkorting die wordt berekend op basis van het totale bedrag van jouw Dedicated Server of Cloud VPS. We hebben van tijd tot tijd acties op onze website en de kortingen varieren per salesperiode.
Factureringscyclus korting
De Factureringscycluskorting is een kortingspercentage dat wordt toegepast op Dedicated-servers of Cloud-servers wanneer u besluit een langere factureringscyclus te kiezen. Kortingen die worden toegepast op beide servertypen met verschillende factureringscycli worden weergegeven in de onderstaande tabellen.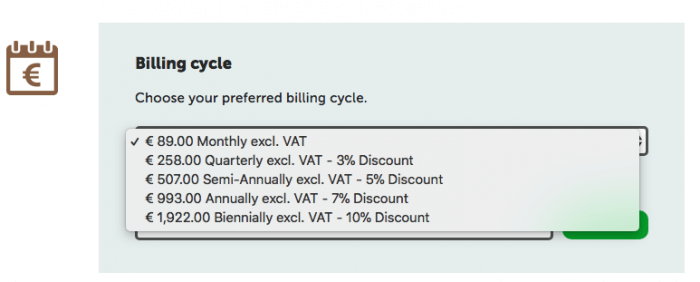 Dedicated Server Factureringscycluskorting
Cloud VPS Factureringscycluskorting

Reseller discount
When you grow in the number of servers we will apply reseller discounts to your server account. Our reseller discounts are calculated off the total amount of your Dedicated server or Cloud VPS. The percentage will be determined by the number of servers you have and the monthly revenue. This can differ from 5 – 20% discount per month. The more servers you have the more you can save. You can contact us to learn more about how much discount you can receive.