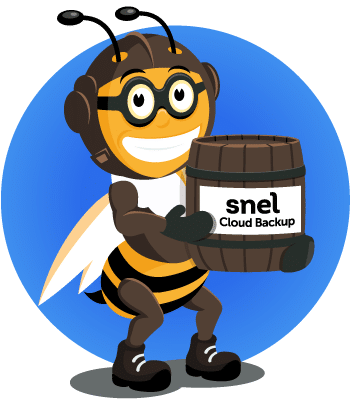 Why is backup so important?
Data is valuable and crucial for most companies. The loss of data can cause inconveniences and sometimes it can even be disastrous. Nevertheless, data backup is often overlooked by many companies. It is important to backup your data because it enables the restoration of data when something crucial has happened. Moreover, it also allows you to restore data at a later point in time which can be very handy. Snel Cloud Backup allows you to easily restore your data in no time without affecting your server's performance.
Secure and Flexible: Discover the Power of Snel Cloud Backup
Snel Cloud Backup has advanced and innovative security features to protect your data safely. It has fast, bandwidth-efficient backups as deduplication is client-side, saving storage space. Moreover Snel Cloud Backup offers you flexibility because after your first backup you do not have to re-upload a full file again. Our backup solution is fast, you can restore your oldest and newest backup with the same speed. Furthermore, Snel Cloud Backup is built with SSL support and the panel is available in 12 languages. This gives you the option to manage your backup in the desired language.
Snel Cloud Backup Unmanaged Cloud VPS
Snel Cloud Backup Unmanaged Performance VPS
Snel Cloud Backup Unmanaged Dedicated Server
Snel Cloud Backup Managed Cloud VPS
Snel Cloud Backup Managed Performance VPS
Snel Cloud Backup Managed Dedicated Server
If you already have a server at Snel.com, add this control panel to it!
First 50GB Backup space 
(1 device included)
Per extra GB up to 250GB Backup space
Per extra GB of 251GB up to 500GB Backup space
Per extra GB of 501GB up to 1TB Backup space
Per extra GB over 1TB Backup space
Snel Cloud Backup Features

Disaster Recovery
---
With Disaster Recovery, you can protect your data or even prevent data loss as you can plan failover to mitigate disaster recovery scenarios for virtual machines (VMs).

Instant Restore
---
The instant restore functionality of Snel Cloud Backup allows you to reduce your outage recovery time by starting your server directly from the backup storage without moving any data.

Data deduplication
---
We are using client-side deduplication, this ensures that the data is broken into compressed, encrypted chunks. As a result, this will lead to bandwidth and storage space efficiency. Our backups are incremental, after your first backup, you do not have to re-upload your full file again.

Data in
Netherlands
---
Your data is backed up in Amsterdam. You can rest assured that all of our data centers have major security certifications and they are compliant will all data sovereignty regulations.

Disc Image Protection
---
Our backup solution offers protection to your entire disks and partitions on Windows for full system recovery. You can restore and backup your server to physical, VM, or the cloud.

Strong
Encryption
---
Your data and metadata are protected with AES-256 encryption by default. Your backups are also protected by irreversibly encrypted passwords.

Granual Recovery
---
Granual recovery allows you to restore specific files, tables, or emails and restore the lost data itself without having to recover full databases or systems.

Central Management
---
With our web-based centralized management console, you can reduce your workload. You can access your web console from any browser or any device, including tablets.

Microsoft 365 apps
---
Snel Cloud Backup allows you to protect your Microsoft 365 Applications such as Outlook, OneDrive for Business, SharePoint, and Teams files with domain or user-level backups to a storage destination that you can choose.
ISO/IEC 27001 Certified

We guarantee continuous improvement in security, availability, and quality.

Certified Green Host

We strive to continuously reduce our footprint with all of our processes.

Moving service

We will do the heavy lifting, and we are quick and thorough at it.
Swift answers

Guaranteed quick response times.
You can reach us 24/7/365.

100% Network uptime

We always like to give one hundred percent. So that's the uptime we offer.

Continuous improvement

We keep improving our processes to meet the highest standards.
FAQ Regarding Snel Cloud Backup
Snel Cloud Backup is an advanced and secure solution for backing up and restoring your important data. It allows you to securely protect your data and offers flexible options for managing backups.
Yes, Snel Cloud Backup offers a user-friendly panel available in 12 languages. This allows you to manage your backups in the language that suits you best.
Yes, with Snel Cloud Backup you can restore both older and newer backup files with the same speed. This saves time and offers flexibility in retrieving specific versions of your data.
To get started with Snel Cloud Backup, you can contact the Snel team. They can provide you with all the necessary information and support to implement your backup strategy.
How can we help?
Our customers praise us for the excellent service they receive. Would you like a taste? Get in touch with us, and we'll help you find the best solution for your hosting needs.