Learn to restore databases with Snel Cloud Backup
In this article, we will provide you with the steps to perform a database restore.
Prerequisites
Installed database server MySQL / MariaDB
A protected item that covers the database server
Step 1: Log in to Snel Cloud Backup Console
Go to https://backup.snel.com/ and log in with your credentials.
Step 2: Restore
When using a control panel the database as well as the user should exist. Otherwise, you will not see this in the control panel.
Click "Restore"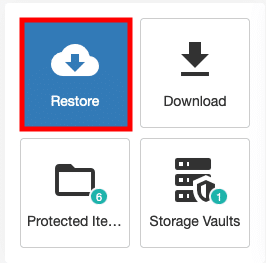 Select from which servers data you want to restore, you can use the dropdown menu " Please select an online device to control:" to see the server overview. Once the server is selected click "Next >"
By default only the latest recovery point will be shown. To see all recovery points click "Refresh"
Select from which backup you want to restore and click "Next >"
In our case we do want to restore a single database, select "Select Items…". You will see all the databases, select the database you want to restore and click "Next"
After the next step tables existing in the backup of the selected database will be dropped and recreated on the server. Make sure to make a backup of the current data if you have additional data in your database which you don't want to overwrite!
On the Restore page Restore as is selected as MySQL Server and the Authentication details are prefilled. You don't have to change anything and click on the Restore button.
Step 3: Optional restore process
If you want to keep track of the restore process, click "History -> Job History" in the menu. Find the backup process with type "Restore" and click "Report".
Conclusion
This article has described how you can restore a database from a backup.