Entire Machine restore with Snel.com Cloud Backup
Prerequisites
Step 1: Log in to your client area
Log in to your client area via https://my.snel.com/clientarea/.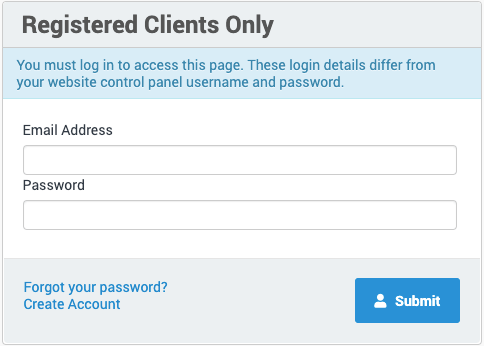 Step 2: Select the server
Select the server in which you want to open the KVM console.
Step 3: Open KVM Page
Navigate to the KVM tab, and click on Visit the KVM page.
Step 4: Log in to your KVM page
Use the login credentials which you can find on the KVM tab of your dedicated server in step 3.
Step 5: Launch the virtual console
Launch the virtual console by clicking on Launch Virtual Console in the iDrac dashboard.
Step 6: Use the KVM console
The version name can differ in your situation.
Click "Connect Virtual Media" and mount "Recovery-Windows-Snel Cloud Backup-22.3.4".
Click "Map Device" to attach the ISO
Step 7: Boot to Virtual Media
Once the media is mapped boot click boot and select "Virtual CD/DVD/ISO"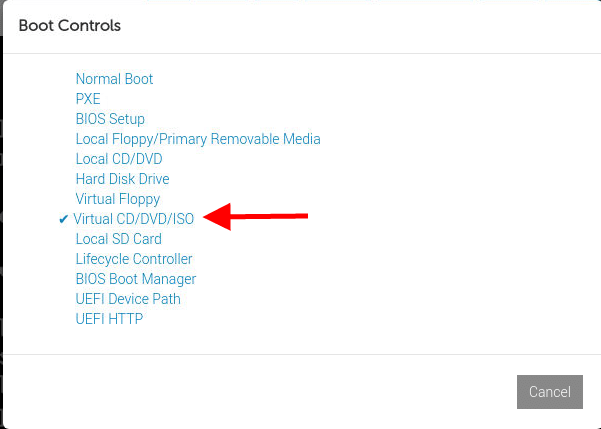 Now click "Power" and click "Power Cycle System (cold boot)" to boot the recovery media
Step 8: Configure Recovery Media
There is no active DHCP server, therefore it's required to configure a static IP address. Click "Tools" in the lefthand corner to open the menu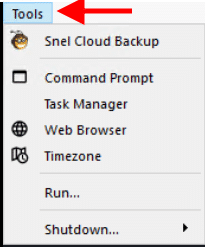 You can find the NIC by typing "ipconfig /all"
Configure the IP address, based on your Main IP address which you can find under "IP Management"
netsh interface ip set address name="NIC1" static 128.204.192.x 255.255.255.0 128.204.192.1
Configure DNS server
netsh interface ip set dns name="NIC1" static 89.207.128.252
Check if the settings are correct by typing
ipconfig /all
Close the command prompt
Step 9: Log in to Snel Cloud Backup
Log in to Snel Cloud Backup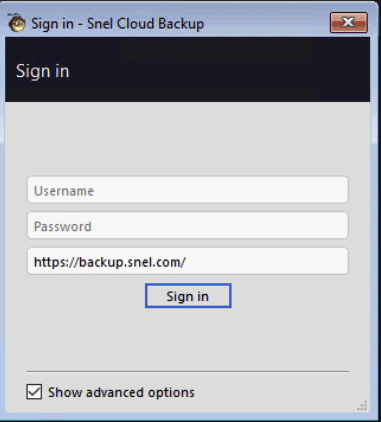 After login, you will be asked to register the new device, click "Register".
Step 10: Start Recovery Process
Click "Restore" in the Snel Cloud Backup interface
Select the storage vault and click "Next"
Select "Show items from other devices" this will show you the backup of your lost server. Select the backup you want to restore.
Select "Restore to physical device(s)" and click "Next".
Select the source and destination and click ""Add to restore queue". Once the queue is added you should be able to click "Restore".
Step 11: Optional restore process
You can monitor the restore through the KVM console.
The alternative is to login into https://backup.snel.com . Navigate to "History -> Job History" in the menu. Find the backup process restore "type" and click "Report"
Conclusion
In this article, we have provided the needed steps to perform an entire machine restore with Snel Cloud Backup.