Introduction
In the previous article "How to backup Microsoft SQL in Snel Cloud  Backup" we have provided a step-by-step explanation on how you can order and configure Snel Cloud Backup agent to create your first backup. This tutorial has for a purpose to teach you how to restore an MSSQL database(s) backup from Snel Cloud Backup on Windows Server 2019.
Prerequisites
A pre-existing backup of Microsoft SQL
Step 1. Log in with RDP to your server
Use your server login information available in your client area to remotely access your server. Depending on which OS you are using you can view the following articles:
Step 2. Log in Snel Cloud Backup agent
Once you are successfully logged into your server use the Snel Cloud Backup login credentials to access your protected items (backups) in Snel Cloud Backup agent. You will find these credentials in your client area under: My services>Extra services>Snel Cloud Backup>More>Login information

Step 3.  Select "Restore" in Snel Cloud Backup agent
Inside the Snel Cloud Backup agent located on the left side of the navigation panel choose "Restore" option and proceed to the next step.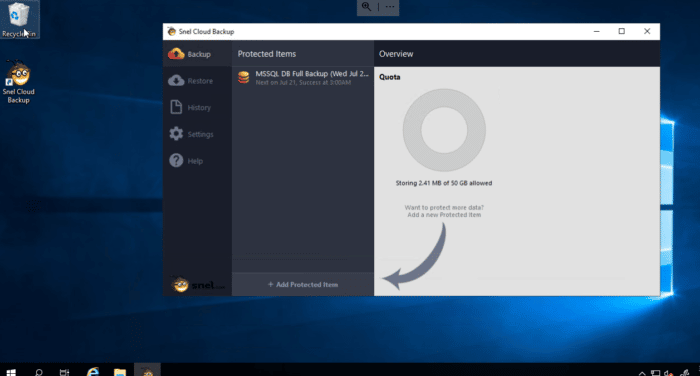 Step 4. Select available storage vault location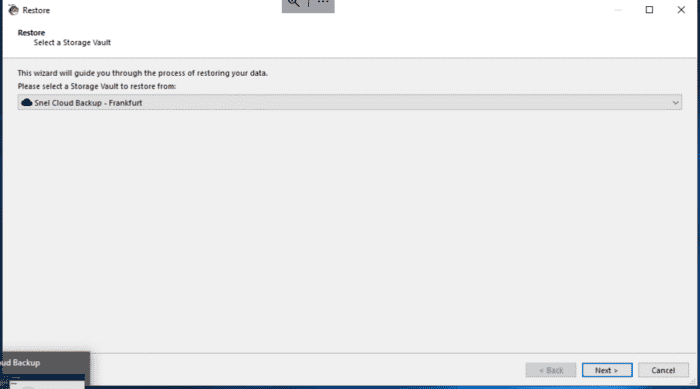 Step 5.  Select protected item (MSSQL backup in this instance)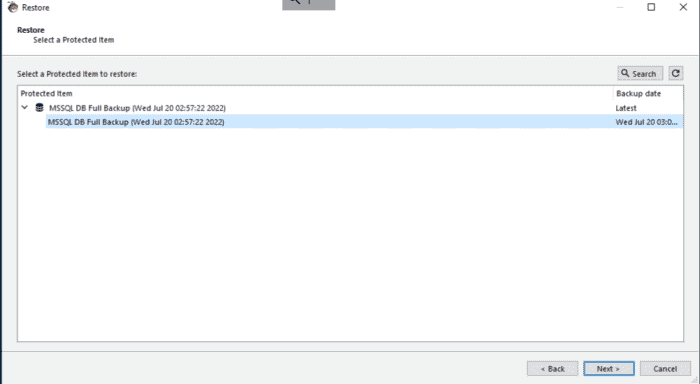 Step 6. Select the database backup to restore
Choose which database you would like to restore backup from. In this instance we have the backup of our test database snelcom_mssql available.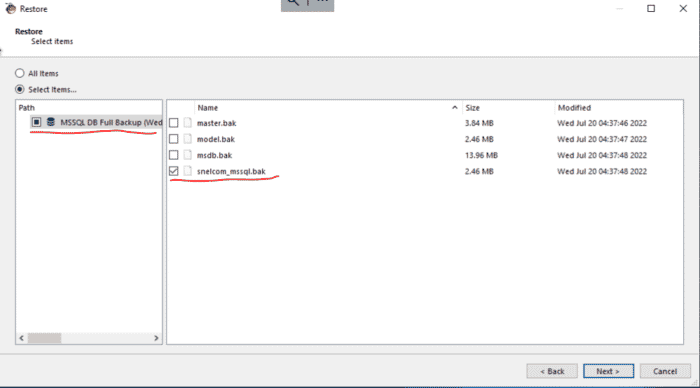 Step 7. Choose the output folder for your backup file(s)
Provide the output path for the backup files with following as output folder: C:\Program Files\Microsoft SQL Server\MSSQL15.SQLEXPRESS\MSSQL\Backup and then click "Restore" button.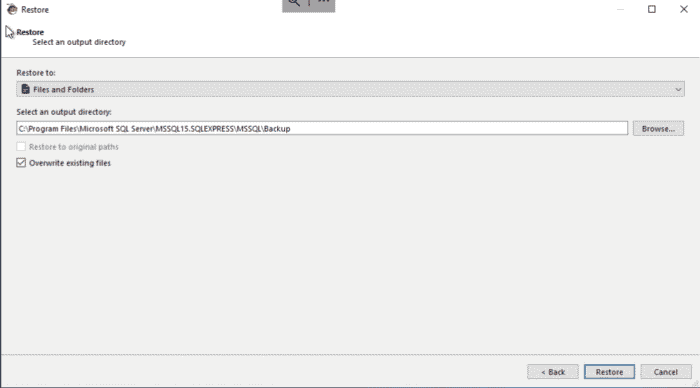 Once you have ran the restore you should be able to see backup restore process running and confirmation message that indicates that it has been successfully completed.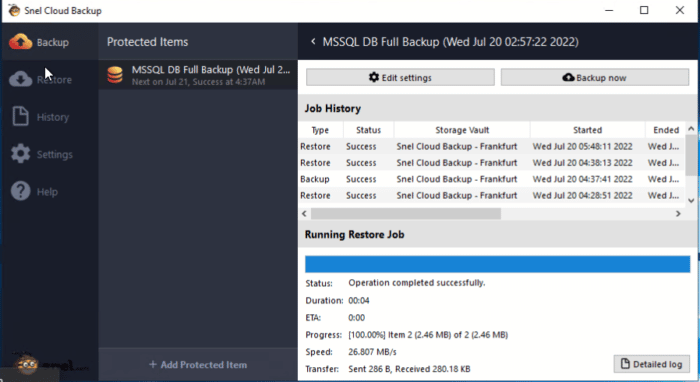 Step 8. Go to MSSQL Management Studio
Once we have restored the backup from Snel Cloud Backup to our server, we need to restore the database within the MSSQL. This can be done from MSSQL Management Studio by right-click with the mouse on Databases and then click on Restore Database.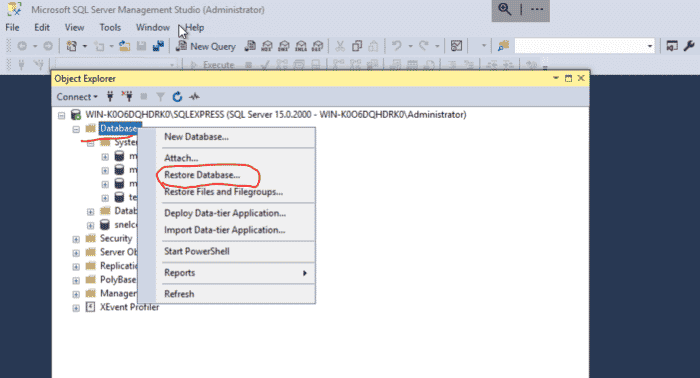 Step 9. Add a source and database backup you would like to restore
In this step we have to add a source for our backup location. We are going to select: Device and then click on the three dots on the right side of the row next to it. A new window will open in which we have to click on the Add button. The second window will open with a Backup folder location which we already have defined as the restore path from our Snel Cloud Backup agent. Here you can select the database backup to restore and proceed by clicking the OK button on both windows.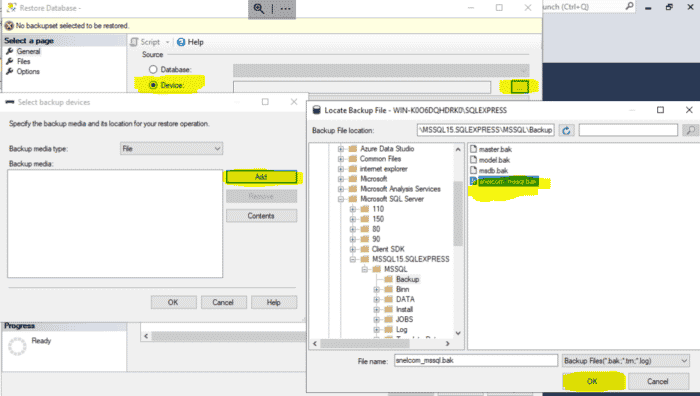 Step 10. Verify the backup and restore
We are almost ready, if everything is done right, you should do the verify backup check and get the message that the backup media has been verified successfully (as in the screenshot below). Proceed by clicking on the OK button to start the backup recovery.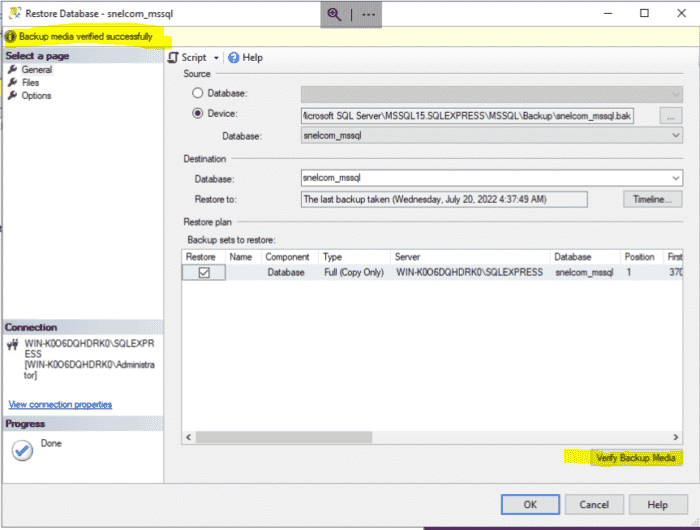 Depending on the size of the backup this should not take a long time. Once restored, you will get the following message displayed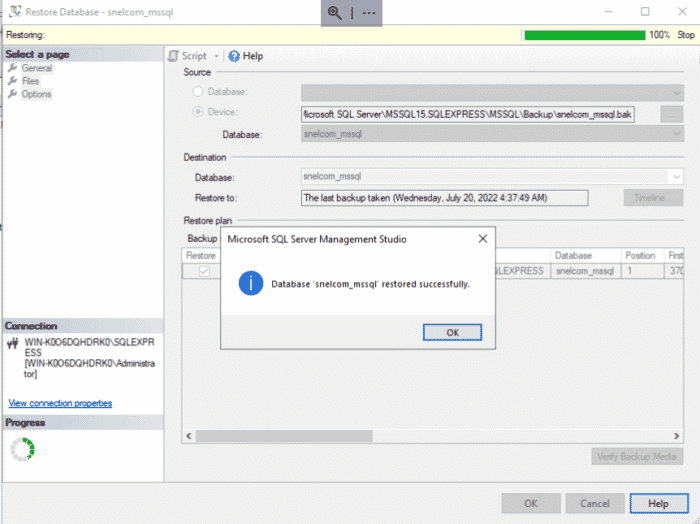 Conclusion
In this article we have explained in detail, how to restore your backup of MSSQL using Snel Cloud Backup agent on Windows 2019 Server.