Configure retention policy Snel Cloud Backup
In this article, you will learn how to configure the retention policy of a protected item in the Snel Cloud Backup console.
Prerequisites
Step 1: Login to your client area
Log in to your client area via https://my.snel.com/clientarea/.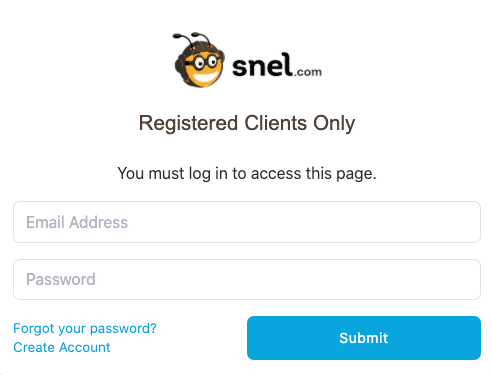 Step 2: Login to Snel Cloud Console
Navigate to "Extra services -> Snel Cloud Backup" once the service is opened, click "More -> Login Details" to find the login details for the Snel Cloud Backup Console.
Log in to https://backup.snel.com. Once you are logged in, click "Restore".
Step 3: Protected Items
By default we create one storage vault per device/server.
Click on "Protected Items", choose the protected item you want to configure and click "Retention". If you have multiple servers you will see a list of storage vaults, choose the storage vault of the server you want to edit and click the pencil icon in the right corner.
Step 4: Retention Policy
There are two categories of retention policy:
Policy to keep all backups forever
Only keep …
In most cases you do not want to keep all backups therefore the default configuration has the following settings:
Our default policy is as followed:
7 Daily backups
4 weekly
2 monthly
To achieve this it's configured as followed:
To achieve this it's configured as followed:
Last 7 backups, at most one per day
Last 5 backups, at most one per week
Last 4 backups, at most one per month
Retention formula: If you want to change the default policy use the following formula:
N daily
N + 1 weekly
N + 2 Montly
Save the new configuration. If the policy has changed, this will be applied in the next backup schedule. You will find the next backup schedule under the "Schedule" section. If you do not want to wait for the next scheduled backup, you can run a manual backup to apply the new policy. This can be done by navigating to "Devices -> Backup" be sure to configure the correct "Device, Protected item, Storage Vault" and "Apply retention policy after a backup: Run immediately".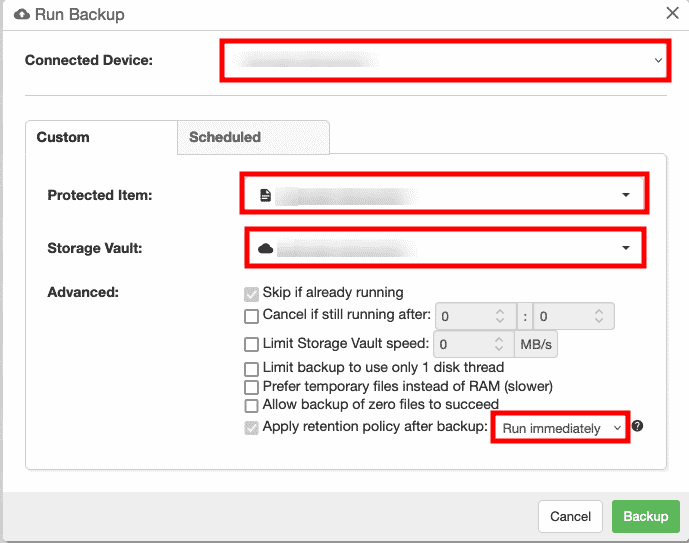 Important: The retention rule will only be applied if the backup quota is not exceeded.
Step 5: Verify
You can verify the new retention policy by clicking which recovery points you have. Click "Restore" from the dashboard or in the top menu. Select the server you want to verify "Please select an online device to control:" and the connected storage vault of this server from the dropdown menu "Please select a Storage Vault to restore from:".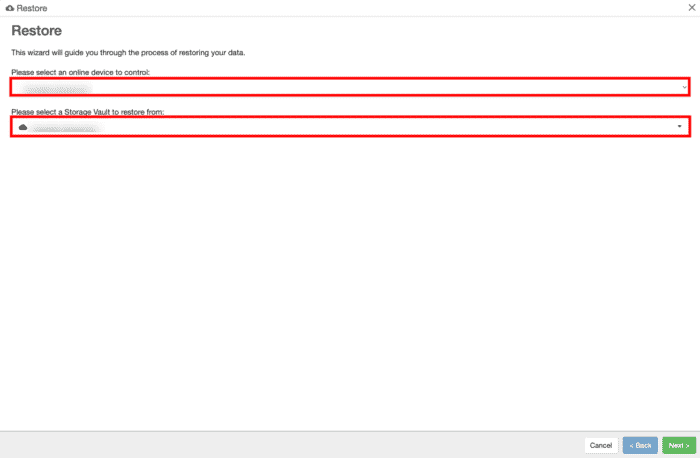 By default only the latest recovery point will be shown. To see all recovery points click "Refresh"
Here is an example screenshot with recovery points, in your case, you should only see the recovery points based on your policy. In case of errors or questions, please contact our support department.
Conclusion
In this article we have described how you can configure the retention policy for your protected item with Snel Cloud backup.