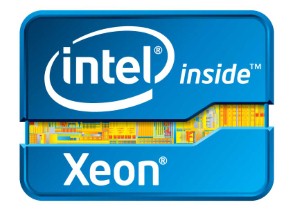 When purchasing a dedicated server, it is crucial to ensure the hardware has enough processing power to ensure applications run smoothly when you need them and data backups take place quickly. This will not be a problem when purchasing a server from SnelServer.com, as our hardware makes use of Intel's Xeon processors. Since the latest version Intel Xeon E5 processors are very popular among many users we decided to write about the advantages and capabilities of this processor.
Intel Xeon E5 processors are specifically designed for servers, enterprise workstations and storage solutions, the latest generation of Intel's processors are, according to the firm, "built to be at the heart of today's data centers and enable powerful, versatile private cloud solutions". Businesses that are concerned about their carbon footprint and green credentials will be pleased to hear the newest versions of the E5 processors retain industry-leading power efficiency. Tests by Intel indicate the new E5 processors can deliver as much as a 70 per cent increase in performance per watt over previous generations.

This is achieved without compromising on performance – indeed, these models are up to 80 per cent more efficient than Intel's previous Xeon-based family of processors. In addition to fast performance, Intel also promises a range of security features to protect against data theft. Platforms based around E5 processors feature hardware-based data protection that reduces performance taxation while encouraging constant data encryption and firms that are embracing the cloud to share documents and run applications will also be able to set up a hardware 'root of trust' enabling them to dynamically migrate virtual machines from one trusted pool of resources to another.

Hexa core, dual quad core and dual hexa core processors from SnelServer.com all feature i3 and i7-series processors with memory and hard drive specifications varying depending on which model users opt for. For those who do need the processing power offered by E5 chips, this latest version will be offered by SnelServer.com in the future, so keep on eye on our site and offerings.